Bikers Welcome
From The Editor "LuLu"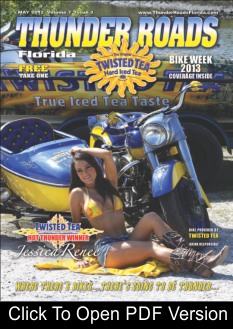 Okay I have been doing my best to bring you an informative magazine every 30 days for over 6 years…and I must admit from time to time I feel like throwing in the towel, then something like this weekend happens and I feel that what we do as a magazine and as a group of people known as bikers is without question so valuable. A girlfriend of mine that many of you know is in the battle of her life and in what was predicted to be a total washout over 230 people showed up to show her love and help out financially!
If I have to say this to you guys a million times there is nothing more precious in a time of personal crisis than people who care!!!
Please write in to me about your likes or dislikes about our publication as we need feedback to improve…and honestly to keep feeling like what we do here matters.
Please ride carefully this summer, hydration is so important and make sure some of what you drink doesn't have alcohol. Also please wear sunscreen!!! Freckles may be cute when you are young but not so much so when they turn into skin cancers!!!
Ride safe and ride on,
Lulu