Bikers Welcome
From The Editor "LuLu"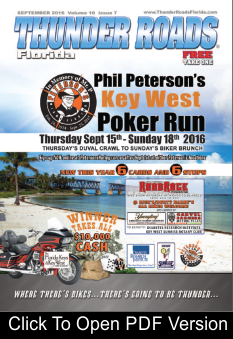 Wow, summer is quickly coming to an end and it has been a great one. Thunder Roads Florida has experienced lots of growth and we really appreciate the support of our ad clients, both old and new, our readers, staff and friends. Our 2016 goal has been to become the most widely distributed free motorcycle magazine in the state and we are there! Finishing out the year we plan to expand even more!! We have T-shirts, shop shirts and hats that will be available on the website soon. Don't forget to visit our website to view photos of our event coverage and to see dates for events added after we go to print.
Riding into our busy season we are looking forward to Phil Peterson's Miami to the Keys run mid-September and Biketoberfest mid-October. So check your oil and tire pressure, fill up your gas tank and get on the highway and ride.
We will be covering the Angel Flight Ride out of Beaver Bar and ending at Dirty Harry's on 9/4. Angel Flight provide air flights for those that need medical care in distant locations and do not have funds for airfare. We also plan on cooling our pipes at The Boat Bar in Port Orange for their free BBQ Bash on 9/4 with live music. The 9/11 Ride sponsored by Rue & Ziffra put on by the Knights of Inferno and the Blue Knights in Flagler County will be our ride of choice for 9/11. I cannot believe it has been 15 years…and I personally have no intention of allowing myself to forget those who lost their lives on that day! Our longest ad client is Glenn from Smiles and The Dog Pound Saloon and he is celebrating the 13th Anniversary of both of his bars. We will be at The Dog Pound's (in Bunnell) party on the 23rd so come out and join us! The Redneck Games at First Turn hosted by WHOG radio sounds like the party place for 9/24. And Raven is covering the American Legion Ride in Jacksonville on 9/24.
Sadly, I must mention that Boots, the co-owner of Dixie Biker, has passed and is riding the back seat with the love of her life Monk on the highway of heaven.
Ride safe and Ride On,
Lulu