Bikers Welcome
From "TJ"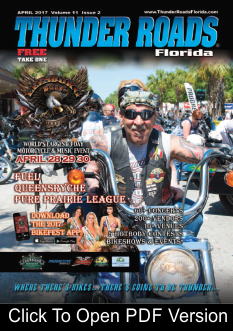 Well, Bike Week has come and gone, and from most accounts it was well attended and very successful. The crowds were huge, and even though the weather was not quite as nice as we would have liked with a bit of rain and cold, it didn't seem to dampen any spirits. Thanks to the City of Daytona Beach and the commitment of all involved for making this the King of all Rally's. The arrival of April continues the spring rally season. All eyes of the motorcycling community will be turning their attention to the Leesburg Bike Festival. This one is a great weekend party and its location in the middle of the state makes it an easy ride from anywhere. From there it's straight to Panama City for Thunder Beach Rally. The sugary sand beaches of the panhandle welcome bikers from all over the south for sun and fun.
Also in April is Easter Sunday on the 16th which also happens to be my birthday. So, if anyone is wanting to send me expensive presents just let me know. Bought myself an expensive toy in the form of a new delivery truck so look for our silver Thunder Roads Florida hotel on wheels in a city near you.
This will certainly keep us on the highway of life more days of the month! Also, we hope everyone is enjoying the new monthly tech tip piece "Playing in the Cat Box". We welcome all your feedback.
Try to hit some of our Biker Friendly Bars this month and please let them know you saw them in Thunder Roads Florida. We have them listed by county so hit the road and explore! Whether they are old or new advertisers they all help contribute to our ability to bring this magazine to you each month.
See ya on the road,
TJ