Bikers Welcome
From The Editor "LuLu"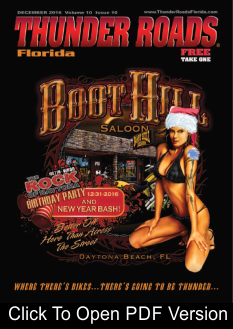 As we leave 2016 in the rear view mirror, I sadly reflect on the loss of friends within our biking community and the Thunder Roads Florida family. This year we have lost young riders, female riders and a slew of men of all ages., add to that the loss of Ronnie Luznar from Cabbage Patch Bar and my own Kneecap (Bill Braddock) this year seems to have been particularly hard. Although any loss of a loved one hurts, not seeing Ronnie sitting at the Cabbage Patch and not having Kneecap yell at me for failing to answer my phone just creates a blank space in my heart and mind. Having said that I will lecture you as Kneecap would me: put the phone down while you are dining with your family…put the phone down while you are driving…pay more attention to those around you and less attention to Facebook.
The last thing I need to say for Kneecap is give President Elect Trump a chance. If you are Republican I am certain you think he can't do worse than the last 4 years…and if you are a Democrat, he might just surprise you and move us in a better direction than where we have been heading. Kneecap wanted him to win so maybe he is smiling down on all of this.
We have raised a ton of food and lots of cash for the Food Banks in our state with the help of Twisted Tea and local bars. Our Twisted Tea party in December is on the 11th from 2-6pm in Volusia County at Rudy's Bar & Grill on Ridgewood Ave. in Holly Hill. There will be live music. Bring non-perishable food items for a chance to win $50 cash (1 raffle ticket per item). Going into the holidays the food banks are desperate for donations as their shelves are always bare going into Christmas!
Merry Christmas and Happy New Year….
Lulu & T.J.