Bikers Welcome
From "TJ"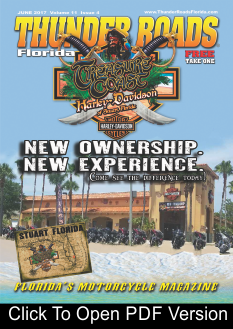 What a blast we have been having lately!! Leesburg Bike Festival and Thunder Beach Rally in Panama City Beach kept our calendar filled with lots of miles traveled and fun times. Meeting up with our readers from all over the state and re connecting with the rally vendors and our ad clients make it all worthwhile. The motorcycling lifestyle and the magazine lifestyle are all about getting to know new people, and enjoying the company of old friends. Beth and I have been doing lots of both.
It's very satisfying to see all the hard work paying off in the form of a much improved magazine. Thunder Roads Florida is growing in size, distribution numbers, and news coverage. New sponsors are steadily joining our family of advertisers which allow us the ability to keep you all informed of the happenings inside the biker world. This month we are thrilled to welcome world renowned bike builder Eddie Trotta with his latest line of custom made parts. Also, the new ownership/ management team at Treasure Coast Harley-Davidson in Stuart, led by my old friend Scott Floyd, is introducing themselves to the South Florida market and beyond. Locally here in Daytona, check out the nice new digs of Lucky Clover Cycles. Bob is setting up a first class facility on Jackson Street in Port Orange. And let's not forget our friend Daytona Flash Airbrushing. He does bikes, cars, and just about anything else you need customized. We believe strongly in the products and services that our ad clients provide and personally endorse them all.
June is here and that means Father's Day. Don't forget to honor your fathers, after all they're probably the ones that put you on your first bike. And with the summer riding season upon us please be careful out there and ride defensively. Drink lots of water to keep hydrated and use sunscreen to protect from the damaging effects of the blistering hot Florida sun. Major events like Laconia, 4th of July holiday, and the Sturgis Rally are what we look forward to. Let's get through them all safely. Meanwhile, we'll be out there doing what we do.
See ya on the road,
TJ