Bikers Welcome
From "TJ"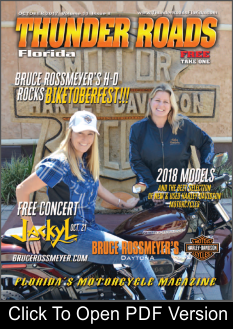 Finally, the best riding season of the year is rapidly approaching. Fall in Florida means cooler weather and lots of rally's, events, and parties. Our calendar is full for October and Beth and I are really excited to get out there and have some fun covering events and reporting back to you, the readers, about what is going on in the motorcycling world.
The first Saturday is the 1st Anniversary of Shifty's Hideaway Run for the "Hills" Breast Cancer ride in Keystone Heights. It will be a great ride through the scenic woods of Clay county with Big Engine rocking the stage afterwards. The next day, Sunday the 8th, is The 23rd annual Ride for the Children to Camp Boggy Creek. A police escorted ride for a great cause and a real special experience. Sign up and ride or put it on your bucket list.
Next it's time to get down to Ft. Lauderdale Indian for the unveiling of the 2018 lineup and arrival of the demo truck. I've heard people say that "if you ride one you'll buy one" so I'm a bit nervous about that trip. From there it's straight to a new event for us. Cotee River Bike Bike Fest 13th – 15th is at beautiful Sim's Park, right on the river in Downtown New Port Richey. They have roller derby and wrestling in the lineup as well as a bikini contest and Venom's Bike Show. Firehouse will headline the Saturday night entertainment.
Then we head home and roll right into Biketoberfest. Not much needs to be said about this one except it's a complete BLAST. Check the calendar of events page for all the places to be. We'll get a few days to recover then it's over to Panama City for Thunder Beach Rally. Four days of fun in the sun, concerts, bikini contests, and visiting with our vendor friends. Follow that with a short ride over to Pensacola Beach for the Southeast HOG Rally to start November and then some R&R at the Lone Star Rally in Galveston. That ride will be for fun, not work. Hopefully the show will go on after the devastation caused by Hurricane Harvey. Of course no trip across I-10 would be complete without a stopover in New Orleans. If I survive all that, then I can get back and start working on November's calendar.
As we begin to get in the spirit, remember that he best thing about all this running around is seeing old friends and meeting new ones. So as always, please say hello when you see us out there and let us know if you enjoy the magazine. It makes us feel good!
T.J.