Bikers Welcome
From The Editor "LuLu"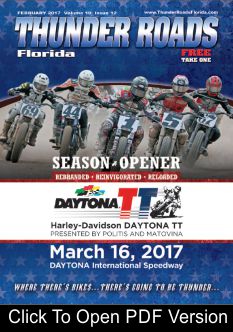 One thing I have learned in this world is that the only thing constant is change and we have plans for some new fun stuff coming in Thunder Roads for 2017.
Beginning with this issue you will be seeing a new feature article called "Playing in the Cat Box". It is written by my good friend Danny (AMCAT Cycle) Martin, a bike shop owner and builder out of Indiana. His writing will address all things motorcycle…repair issues, maintenance, riding safety and who knows what else. Danny has a quick wit and good sense of humor so I'm looking forward to his stories keeping everybody informed and entertained. Also, starting with the April issue, each month we will choose one of Florida's 67 counties and tell you what that county offers us as motorcyclists, including the best rides, hotels, restaurants, watering holes and more. Our mission is to always keep the readers informed as to what is happening in this beautiful state, so you can get out there and enjoy the ride.
Three new reps have joined the team and we are excited to have them spreading the Thunder. Donnie Reese is in Jax Beaches and St. Augustine, Tony Pettinicchi in Brevard County, and Francis "Pope" Dorsey in Seminole and Orange County. This year's biker calendar is jam packed with events to keep us all busy and it gives us the opportunity to meet new people and make new friends.  Please say hello if you see us at your event.  And be sure to follow the Thunder Roads Facebook site to tag pictures of you and your friends at events we cover. Finally, please continue to support our family of advertisers because they are the ones that make this all possible.
See ya on the road,
TJ