Bikers Welcome
From The Editor "LuLu"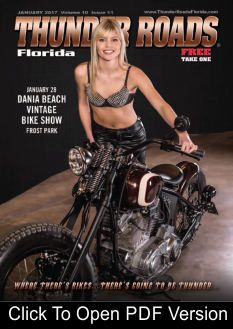 As we put 2016 in the rearview mirror it is time to reflect on all we have done in the last twelve months. Last January when I became part of the Thunder Roads Florida team I set a goal for us to become the #1 read, most widely distributed free biker magazine in Florida. I wasn't exactly sure how we were going to make that happen but I knew we would have to start with the basics. First, we had to greatly expand our distribution list. Second, we would need to personally go on the road to distribute the magazines. Third and most importantly, we would have to build relationships with our readers and businesses involved in the motorcycle industry. Eleven months later our growth is steady and we now distribute Thunder Roads Florida to over 400 locations each month. I have logged thousands of miles and have seen more of our beautiful state than I had in my first 35 years of living here. Best of all we have made hundreds of new friends, which makes our monthly statewide trek very enjoyable.
New events we have discovered along with the old favorites is what makes this work fun. Summer Bike Fest in Davie, Dania Vintage Bike Show, Sebring Bike Fest, Daytona Bike Week, Leesburg Bike Fest, Thunder Beach Spring Rally, Starke Bikefest, Peterson's Miami to the Keys Run, Biketoberfest and Thunder Beach Fall Rally have kept our wheels turning. The countless local events almost always thrown for a worthy cause have filled in the "free" days on our calendar.
But the readers are the key. YOU live the motorcycling life style and in your travels, support the Thunder Roads family of advertisers. They in turn are successful and continue to serve us. Their advertising dollars allow the magazine to continue to bring the readers the statewide coverage, news and information about motorcycle events that we as bikers love. Keep reading to look for events and parties and don't forget you can read online at ThunderRoadsFlorida.com.
The prospects for 2017 are very exciting and I can't wait to get out there and continue this adventure called Thunder Roads.
Happy New Year!
See ya on the road,
TJ