Bikers Welcome
From "TJ"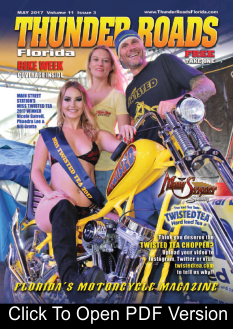 The month of May is upon us. In besides the full calendar of rallies and rides we should all take time to honor our veterans. Make sure you find time in your busy schedule to pick a veteran's ride or event to support. The freedoms we all enjoy are too easily taken for granted. Time away from family, loss of life or mental and physical harm are the price that these brave men and women pay to protect us. For those of you who are riding to The Wall in D.C. in May ride safe and know our thoughts are with you. Beth has ridden with Rolling Thunder Chapter 8 twice and says it is the most unforgettable experience on two wheels.
In the meantime, get out and enjoy your freedom and the road. Head to Panama City Beach for the Thunder Beach rally! Four days of sun, fun, riding, concerts, vendors, cool bars, beautiful beaches and lots of great seafood. Until last month the Panhandle was part of Thunder Roads Alabama, but now it is all Thunder Roads Florida making us truly Florida's Motorcycle Magazine. We look forward to enjoying the local southern hospitality going forward as we will be spending more time up there.
Please email us your events in the panhandle for our calendar to thunderroadsfl at aol.com.
And look for your copy of Thunder Roads Florida in your local dealerships or you can read it online. As we expand into the northwest part of the state we will be looking for reps from Tallahassee to Pensacola so if you are interested in the motorcycle lifestyle, have a camera and like to write email me! If you see us out during Thunder Beach please come up and introduce yourself, we love making new friends.
On our way to Panama City our first stop will be in Perry at Cypress Mill Grill on S. Byron Butler Parkway, great food and a cold one will be in order…Dusty is the owner and he is a great guy and happy to see bikers at both of his establishments in Perry. He also owns Sunny Seas Landing on Hwy. 98 W which he opened after our last trip through. Guess that means two for the road!
When Beth was out distributing the magazine last month, she had a major brake failure late at night and we want to thank two peeps for their aid. The owner of Burnout Alley Cycles in Belleview saw her out in the parking lot and took her to a repair shop next to his shop. The owner of P. R. Auto Repair not only drove her to the Villages 30 minutes away, fixed her brakes by first thing the next morning, he also did it at a really, reasonable rate! Nice to know there are still great men in business!
See ya on the road,
TJ