Bikers Welcome
From "TJ"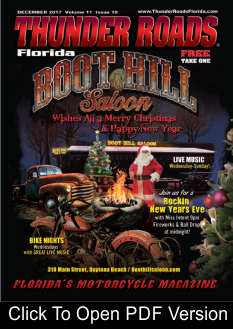 As the end of 2017 nears I want to thank our loyal readers and advertisers for their support of Thunder Roads Florida. If you enjoy our free publication featuring an extensive calendar of events, jokes, rally and event coverage please frequent the bars, restaurants and dealerships who help us bring this to you. We have had tremendous growth in distribution during the past year and plan to expand that even more in 2018!
All of us have a vice or two, mine tends to be fine cigars. Last year I attended a great event in south Florida known as The Great Smoke. This year it will be on February 10th at the South Florida Fairgrounds in West Palm Beach. Tickets are on sale now. See our inside back cover for more information. With VIP pre-event dinner, after party and Sunday brunch you should make a whole weekend getaway for this. Even if you ride in for the event itself you enjoy great music, free lunch, a commemorative bag and 45 premium cigars!
I want to welcome our new advertiser to the Thunder Roads Florida family! OB's in Deland has always been a motorcyclist's favorite watering hole when in the Deland area. They have great food, ice cold beer and full liquor. Now OB's has a Wednesday night bike night with rocking live music and food specials.
At this time of year, we will all be riding on toy runs and that is a great way to earn your wings and halo, but don't forget your local food pantries. And a great spot for New Year's Eve toasting is Boot Hill Saloon with Miss Intent. Might be a good night to call Uber and leave the bike in
the garage!
See ya on the road.
T.J.