Bikers Welcome
From "TJ"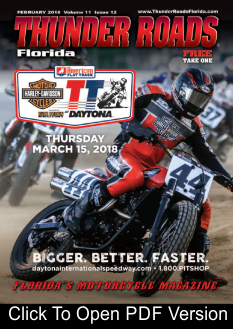 Happy New Year everybody.
Let's hope it's going to be a good one. In 2018 I resolve to ride to as many events as possible, and with all the activities and events on the calendar it's gonna be easy to find lots of riding, which we all enjoy. Rain or shine…hot or cold…day or night we have to ride to all corners of the state this year to take advantage of all the good times to be had.
I love going to bike shows and seeing all the new ideas that these builders come up with. For the last 35 years my mind has been boggled by the latest creations. Looking forward to what the 115th anniversary of Harley-Davidson will bring in the way of customization. Midwest Motorcycles 23rd Anniversary Antique & Custom Bike Show is at Beaver Bar. When you get to this show and see the crowd you'll think it's Bike Week. It's a great day of bikes, music, vendors, sunshine and cold beer. A perfect weekend to log some miles in the saddle and get warmed up for a busy spring. The same day there is a car and bike show at Adamec H-D on Baymeadows in Jacksonville, Missy and the crew always put on a good event. The antique bike show at Earl's in February has been rescheduled for I believe October. And right behind the February bike shows are too many to mention in Daytona as part of Bike Week but make sure you don't miss Chopper Time at Tropical Tattoo!
With spring approaching it is time to hit your dealerships or repair shops to get that maintenance work done. Tire pressure, brakes and engine problems in a car are one thing but on a bike it can be disastrous.
Happy Valentine's Day!
See ya on the road.
T.J.