ikers Welcome
From "TJ"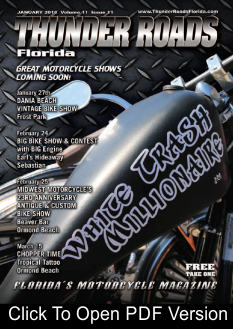 2017 was a fantastic year for Thunder Roads Florida. We experienced tremendous growth in both distribution and production. We were involved in some fantastic new events including Daytona TT Flat Track Racing during Bike Week, the Lone Star Rally in Galveston, Texas, Riding into History in St. Augustine and Cotee River Bike Fest in New Port Richey to name a few. The people that organize those events were fantastic and a lot of fun to work with.
Something we tried to do recently was visit Billy Joel's 20th Century Motorcycle Museum in Oyster Bay in Long Island New York. A showroom full of vintage bikes were just inside a locked front door. Beth didn't know they were only open on weekends, but we had a nice ride and I was able to visit my alma mater C.W. Post. We will be sure to return there someday…with an appointment.
With 2017 in the rearview mirror we set our sights on 2018. Just weeks away is the Dania Beach Vintage Motorcycle Show and then right to the Great Smoke in West Palm Beach and Midwest Motorcycle's Anniversary Party at Beaver Bar in Ormond Beach. That gets us rolling right into Bike Week, Leesburg Bike
Festival, Thunder Beach Spring Rally and who knows what else. It's gonna be awesome so stay tuned.
Happy New Year!
See ya on the road.
T.J.