Bikers Welcome
From The Editor "LuLu"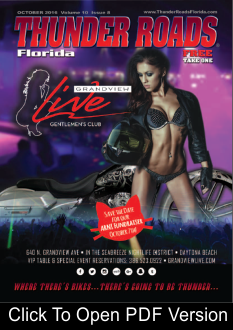 I cannot believe it is time for Biketoberfest again! First and most importantly I must apologize to anyone who is disappointed to not find their event listed in this issue!! I was working on the October issue and since I would be traveling at print time I worked on the calendar early, had it complete except for events that would come in toward the end of the deadline and I dropped my hard drive…and lost the entire event calendar and all of my photos, past issues…everything. I have taken great effort to try to recreate events from emails that weren't deleted, other calendars and from ads…but I am certain that what was lost will disappoint some. I am very sorry and sick over losing all my old photos too! If your event is after October, please resubmit the information so it can end up on the web and printed version in November!
As always I want to remind all to ride carefully and obey the laws in Daytona. You don't want to get pulled over or a ticket for loud pipes, speeding and end up getting a DUI. Also we have lots of pesky critters…deer and even bear so ride very carefully while in the Daytona area.
I want to mention our Twisted Tea party will be at Pug's Pub in October and I would really love you to ride over to Eustis for a fun afternoon and bring some canned goods for a chance to win $50 and to do something good for the local food banks.
We have lots of new ad clients and they have all kind of great events for the month of October so look their ads over closely and join in for some biking fun!
Ride safe and Ride On,
Lulu