Bikers Welcome
From "TJ"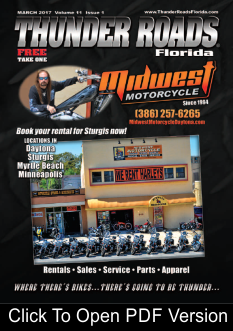 It's hard to believe, but March 2017 is already upon us. And we all know what that means…BIKE WEEK, my favorite week of the year in Daytona Beach and Florida. All of our northern snowbound friends are loading up the trailers and headed south to soak up the sun and fun. 10 glorious days filled with concerts, bikini contests, motorcycle racing, bike shows, beer drinking, coleslaw wrestling, people watching and general debauchery. But most importantly it comes down to riding with friends and making new memories. 36 years of this stuff for me and it never gets old!
The motorcycling lifestyle has taken on a different meaning for me since being involved with the magazine. I now attend all motorcycle events and activities on a mission to capture the true feeling and essence of the experience so that we can convey it to the readers. If you can't be there, we are there for you with stories and pictures for all to enjoy. The thousands of miles traveled and the relationships Beth and I are building make it so much fun and very worthwhile.
All of the hard work in the last year has resulted in steady growth for the magazine and we are proud to say that you are holding the thickest Thunder Roads Florida Magazine in its ten-year history. Please bring your attention …and your patronage, to all of our new and continuing advertisers and sponsors. We are entrusted and committed to help drive their continued success and their ad dollars help drive ours.
Last month I mentioned lots of new things on the horizon. Well, I got a brand new beautiful seat for my bagger from my friend Dave at Ultimate Seats and man is it comfortable. What a difference it made on last week's 150-mile poker run. Also, on Thurs. March 16th we will be attending the new Daytona TT flat dirt track race at Daytona Intl Speedway. Every year I say I'm gonna go to the races and never make it but this year it's a for sure. This is the first year the race will be held inside the track so everybody come see these guys get it on!!
Finally, and most importantly, please ride safe out there. So much fun to be had but it can also be dangerous with all the extra traffic that Bike Week brings and some people simply aren't paying attention to us on bikes. Fatalities have been way down the last couple years and we wanna see that continue.
See ya on the road,
TJ