Bikers Welcome
From "TJ"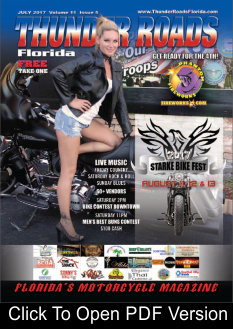 In case nobody has noticed, summer is in full swing and the riding has been HOT and WET!!! That usually means cleaning a frequently dirty bike. That's the worst part for me, but it's part of the deal. Please be careful out there as the roads can be very slick when wet. A nice ride can turn real ugly in a split second and we don't want to see our friends get hurt.
Soon the motorcycling world will be turning their attention to the big summer rally in Sturgis, but in the meantime, there are plenty of local Florida events worth attending. Fourth of July festivities will be in full swing with concerts, poker runs, parties and BBQ's with friends and family. A friend of ours at Indigo Lake Golf Course has a great concert venue where they are doing live music on the weekends check out their Facebook page for scheduled bands. The last weekend in July, Miss Intent will be rocking it for 2 days! We really enjoy chilling with friends and the sound system is awesome.
August will bring Starke Bike Fest which is just southeast of Jacksonville. A cool country town with some nice riding. Stop on your way at McHenry's or Shifty's in Keystone Heights and say hello to Ron Jaffe and staff! Over 60 vendors, 3 days of music, a bike show, bikini contest and if you haven't heard Ben Carter he is awesome!
Phaedra at Main St Station has booked the NY Rockabilly Rockets for one of her bike nights on July 12th so come on out and enjoy the show and unbelievable beer prices!!!
Gina at Chris' Lounge with Rock of Daytona is doing a "Summer Sizzler" the first Friday of each month see their ad for times on this!
One of our favorite spots on the East Coast of Florida is Earl's Hideaway. If you love blues music, they bring in some of the best bands on the weekends. They also have a bike night on Thursdays with live music. This is an awesome destination ride from anywhere in Florida!!!
See ya on the road,
TJ