Bikers Welcome
From "TJ"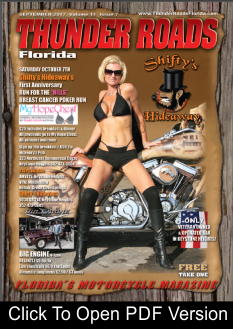 Can you believe summer is almost over and fall is riding in quickly? As the temperatures ease off a bit we all start to ride and venture out of the AC! Read the calendar and the ads…there is so much going on we can't possible mention all in this short space.
BUT there is a charity event coming up early October that I have a soft spot for. Camp Boggy Creek's Ride for Children started by Bruce Rossmeyer 23 years ago. If you are not familiar with Camp Boggy Creek it is a camp that staves' medical personnel so children with illnesses can experience something taken for granted by healthy kids. Not only does it allow the children a chance to have an incredible time at camp, it gives the parents a break from being "caregivers".
In September on the 3rd is the 6th Annual Angel Flight ride out of Beaver Bar, ending at Dirty Harry's. This charity flies people to needed medical care that cannot afford flights for life saving things such as liver transplants, etc. On September 10th, the 9/11 Memorial Ride begins out of the Flagler Government Services Building on 100 in Bunnell. This is a free escorted ride to honor the memory of those lost on 9/11. I visited Ground Zero this summer and as I stood looking at the names it certainly renews the horror of what happened that day. I went to college in Long Island and seeing the footprint of the Twin Towers certainly was powerful. These great events are sponsored by our friends at Rue & Ziffra. When I first met David Sweat and Mr. Ziffra I was impressed how committed they are to be being involved in our community!
A new event for us in October is the Cotee River Bike Fest in New Port Richey. Ride there to explore the West Coast of Florida and a beautiful riverfront park. And note on the cover a charity event in October at Shifty's Hideaway in Keystone Heights on October 7th featuring Big Engine which will be raising money for Hope's Chest which funds reconstructive surgery for breast cancer survivors. Since October is breast cancer awareness month I hope you will put your kickstands up for a great cause and good music!
See ya on the road….
T.J.