By Deborah Speicher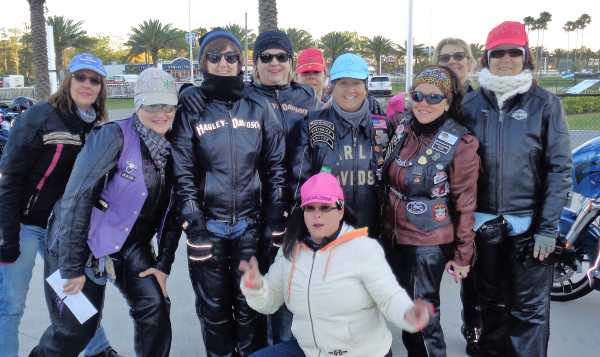 The 10th Annual Harley-Davidson MDA Women's Ride is one of Daytona Bike Week's best organized rides just for the ladies!  Attendance has ebbed and flowed over the years and I think some of the former participants forget what the ride is all about – raising much needed funds for MDA, taking children/young adults with muscular dystrophy on a motorcycle ride and the camaraderie of being with a large group of women riders.  For those of us who keep coming back each year, it's a reality check.  We know that we are truly rich and not just because we can afford our own motorcycles.  We are rich in health, rich in friendships and enriched by being a part of this event.
This years' ride started out just a tad chilly (36 degrees!) but the sun was out and warming up.  We staged and left from the Daytona Beach Speedway, and our police escort took us on a back roads ride to Destination Daytona.   Announcements, prizes and kudos went to all at that time.  This was followed by lunch at Saints & Sinners.
Participation was down a bit this year due to one factor which was the change in date.  Historically, this ride has always been the Tuesday during Daytona Bike Week but was changed to the Thursday to accommodate our Road Queen, Karen Davidson.  Karen has led this ride every year and it would not be the same without her.  Although donations were still being collected at the time of my writing this article, at last count it was approximately $17,000.  Way to go ladies.   I will be back for this event next year!