By Ron Cox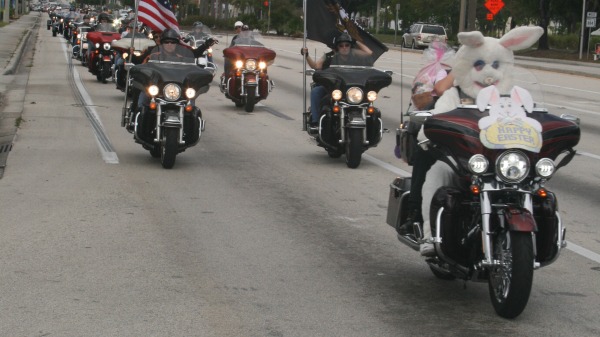 More than 840 riders/passengers joined the Easter Bunny in bringing toys, boxed games and arts/crafts supplies to the patients at Golisano Children's Hospital at HealthPark. The Southwest Florida Chapter of HOG and Ft. Myers Harley-Davidson hosted its annual "Bunny Run" on February 19th.
The event began on Friday night when FMHD hosted a Bike Night in its spacious parking lot. Complete with live entertainment and vendors, HOG Chapter volunteers dubbed "The Pumpkin Patch" for their orange t-shirts, cooked up some delicious burgers, tube steaks and grilled cheese sandwiches. More Chapter volunteers ran a pre-registration table and signed up more than 250 riders/passengers.
The weatherman cooperated and changed the forecast for Saturday to a bright, sunny day with low humidity. More than 500 riders/passengers arrived even before registration opened. Chapter members accepted the challenge of registration and positioning for parking and eventual departure. Every person received a "goodie bag" which included a commemorative pin.
Escort was provided by the Lee County Sheriff's Department and led the bunny and his 800+ friends on the 19-mile ride to the hospital. Hospital staff and parents brought the ambulatory patients, some toting IV poles, to the entrance so they could welcome and cheer as all the riders passed them by. Some cheered and some covered their ears as the noise of horns and revving motors was somewhat loud!!!
Once inside the hospital's Atrium, everyone had the chance for some refreshments. Lee County Health System President Jim Nathan spoke briefly and thanked the riders for the ongoing support of the bunny run and the patients.
Returning to FMHD, the riders enjoyed a FREE box lunch, beverages and more entertainment. Besides a 50/50 raffle, won by Leona Rendziniak a member of Estero ABATE, Scott Aly won the two tickets to anywhere Jet Blue flies. HOG Chapter member Eric Sprauer worked 25 hours to earn the tickets from Jet Blue.
Hospital officials estimated they received more than 2,000 toys. The toys will keep the toy chests on all the children's wards stocked for a year.
SAVE THE DATE! 4/4/15 for the 12th Annual Easter Bunny Toy Run.