By Ron Cox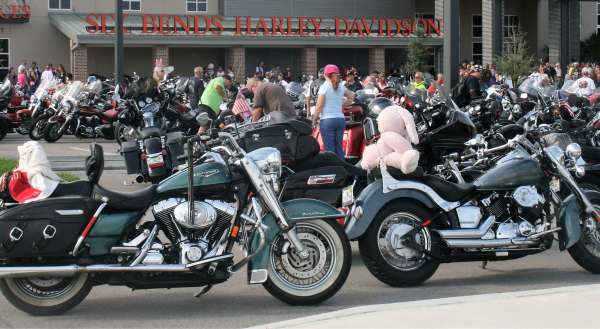 Almost 600 riders and passengers assembled at Six Bends Harley-Davidson in Ft. Myers on Saturday, March 26th to ride in the 13th Annual Easter Bunny Toy Run. Clubs from all over Southwest Florida came in to ride. Clubs included but not limited to Naples & Sarasota HOG, American Legion Riders, LAMA, Roughnecks M/C, Italian Angels and Women in the Wind.
The run actually kicked off on Friday night with a pre-registration and Bike Night at Six Bends. Live music, BBQ food, 50/50 and a burnout pit entertained the more than 200 people who took advantage of the early start.
Saturday morning a steady stream of riders and passengers arrived and registered for the run. All were treated to FREE coffee, pastries, cookies and bagels. NBC-TV was on hand to do a remote to entice more riders to come out. Promptly at 11am the Easter Bunny appeared and the entourage set out for Golisano Children's Hospital at Health Park escorted by deputies from the Lee County Sheriff's Department.
Hospital staff brought down many, many ambulatory patients from the children's ward, they were more than eager to meet the Easter Bunny. Upon returning to Six Bends, all were given a FREE boxed lunch prepared by Jason's Deli, soft drinks and ice cream. The riders and passengers all received a commemorative pin, relaxed and listened to live music waiting for the 50/50 and raffles.
We'll let the pictures tell the rest of the story, but save the date of April, 15 2017 for the 14th Annual Easter Bunny Toy Run.