By Don Seeley, Director
Daytona Harley Owners Group #0652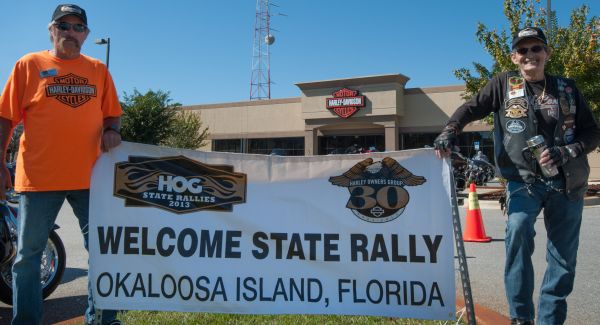 Wonderful fall weather greeted 1,800 motorcycle enthusiasts as they thundered in from all over the country to enjoy the Florida State HOG (Harley Owners Group) Rally on Okaloosa Island on the Emerald Coast of Florida's panhandle.
The nonstop action began October 22nd, 2013 and ran through the weekend ending on Saturday the 26th.This rally is growing every year topping last years' attendance by over 300. To accommodate the crowds in addition to the host hotel the Ramada Inn, two additional hotels were secured; The Palm and the Emerald Grande. And if camping is your preference, that was available across the street from the host hotel. Next year's Rally begins on October 21st, 2014 so make your reservations early.
The Rally had a huge vendor turnout which offered many shopping and browsing choices for rally goers and with the biker games and daily Poker Runs covering 100+ square miles there was never a dull moment, Each Poker Run ended at a different location where a pre-arranged party was held. The opening party was a low southern boil held poolside at the Emerald Palm where you were served handfuls of fresh Gulf shrimp. Another nightly highlight was the Piñatas filled with biker trinkets donated by Harley Dealers from all over the State instead of the usual candy-filled Piñata. On the subject of food, if you are ever in the area your visit would not be complete without a stop at AJ's Oyster Bar. Enjoy a dozen raw oysters and a bucket of brew. Ahhh, it can't get any better?
But wait! Maybe if they added some good-old Rock and Roll music. Well brother, let me tell ya, they did! Every night we were treated to concerts with the highlight of the event being country hero, Travis Tritt. His show drew such a crowd that it was held at the local convention center. Bobby Friss opened for Mustang Sally, a six girl contemporary country band that put on a show I will remember for a long time. They had an amazing ability to draw the audience in and make you feel you are part of the show. One of the best concerts I have ever been too.
Bubba Blackwell, the popular motorcycle stunt rider, put on three shows for us. Have you ever seen a full dresser do a wheelie? I hadn't until I watched him and he makes it looks so easy; no not easy enough for me to even consider the move! After asking for some lady volunteers and not explaining what they were volunteering for, eleven brave souls stepped forward only to be instructed to lay on the ground shoulder to shoulder.You knew what was coming and now they did, but not one of the ladies backed out. After saddling up on his Dyna and making several run-ups, he flies over the flock of females with plenty of room to spare. After several screams and scrambling