By Deborah Speicher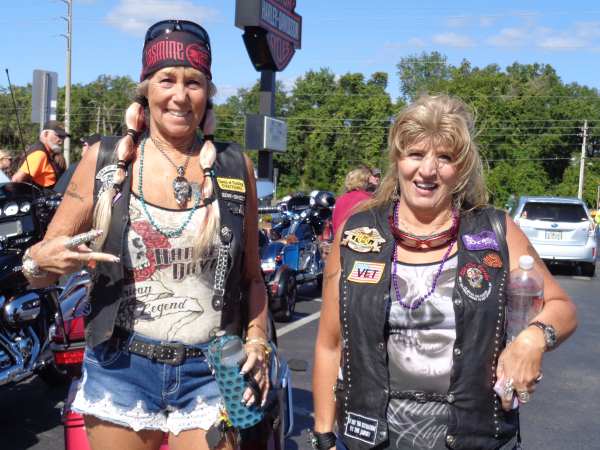 On the first day in May of every year, lady riders are told to "just ride" to commemorate and celebrate being just that – a lady rider! Across the world, several organized rides have started with some events claiming over 1,000 riders. Closer to home, hundreds of us gathered at Crystal Harley-Davidson (Crystal River, FL) for some riding, shopping, music, food and camaraderie.
The weather was perfect (high's in the 70's with almost no humidity) as was everything else. Everyone staged at the dealership for some breakfast, shopping, bike blessings, and a meet and greet with authors Jean Davidson and her son, Jon Davidson Oeflein. Jean and Jon brought some of their books which really give you a good idea of what is was like growing up "Harley-Davidson"!
Later we had a choice of either riding directly to Rock Crusher Canyon for lunch, concerts, prizes and more; or first taking a scenic route down the Ozello Trail. The Ozello Trail is Florida's answer to "The Dragon" as it has a whole lot of twists and turns. After the Ozello Trail, it was on to Rock Crusher Canyon with the Bearded Brothers rocking the house.
Congratulations to Lake County HOG Ladies of Harley who took home the $1,000 prize monies for having the most lady rider participants. However, all ladies had a chance to win several other good prizes including ten winners who got $100 each. Afterwards, the headliner, Jasmine Cain, took the stage.
Kudos to the ultimate Road Queen herself, Linda Dalton, and the ladies who assisted her (Patti Kathy, Roberta, Linda's mom and more!), as well as Crystal Harley-Davidson for organizing this over-the-top day just for the ladies. The dealership really wants to help ladies take life by the handlebars! Oh, and after their sister store, War Horse H-D, rode over with a group of 43 lady riders, we had a total of 462 lady riders. Well done!