By Ron Cox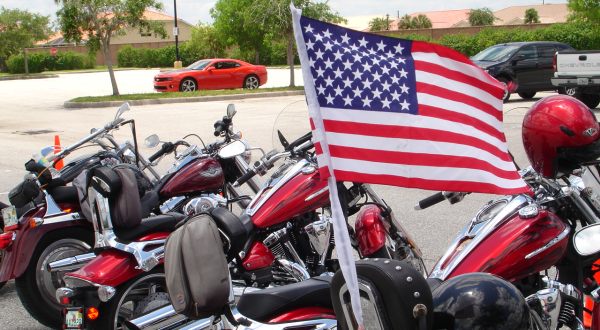 Coinciding with Armed Forces Day (May 18th) the Military Heritage Museum in Punta Gorda (FL) hosted its 5th Annual "Freedom Isn't Free" Poker Run. Receiving no funding from Federal or State government, and only a small grant from Charlotte County, Executive Director Kim Lovejoy and a staff of one organize many fundraising events to support the operation of the Museum.
Riders registered at American Legion Post #103 in Punta Gorda. The 50-mile route took the riders all over Charlotte County with card stops at various VFW and American Legion Posts.
While waiting for the prizes to be given out, the riders quenched their thirsts and satisfied their hunger with adult beverages from the cash bar and sumptuous tube steaks prepared by MSgt. Lovejoy (USAF, Ret.) herself.
The run was the first poker run for Kristie Price who won the $100 Best Hand prize with a King high flush. Pete Rabczewski won the $50 Second Best Hand with an Ace high straight.
The Museum is located in Punta Gorda's Fisherman's Village. It contains more than 30,000 items on display with double that in storage. For example, there are uniforms, weapons, decorations, original newspapers from important historical events, military documents, photographs and much, much more. If you've never visited the Museum it's well worth the trip. And admission is free!!