By Deborah Speicher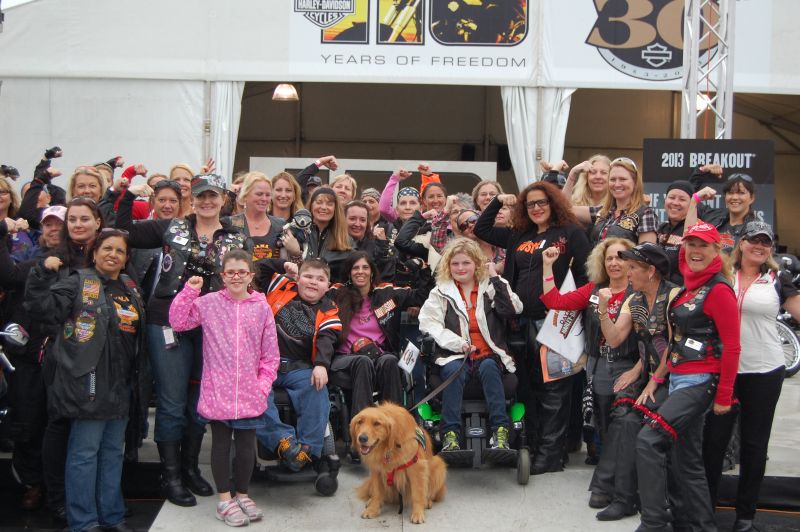 The annual Harley-Davidson MDA Women's Ride goes on rain or shine, and this year it almost went on in the rain. As my group left for the staging area on Beach Street, the rain started. Thankfully, it was only light rain but it made the morning dark and dreary. However, once we got to Beach Street, it all changed. The three children and one adult with muscular dystrophy joining us for the ride were so excited, and no amount of rain could keep them from being all smiles. Thanks to a trike and some motorcycles with side cars, they got to ride with us. This is one event that they look forward to each and every year.
We had an incredible police escort courtesy of the Daytona Beach Police Department and the Volusia County Sheriff's Department. The ride took us up Beach Street and over the Main Street Bridge. Going down Main Street during Bike Week with a police escort means no stopping for traffic or lights and is one of the greatest routes of this ride. We then headed north on A1A to SR 40 and into The Loop. The ride ended at Destination Daytona.
With over 100 participants, the ride generated $31,000 in donations. Most of monies raised stays locally to help send children with muscular dystrophy to MDA Summer Camp. In the past six years, we have raised over $300,000 for MDA. It would be hard for me to express how important that is to the children and their families that attend this event each year. I would encourage you to come out and support this event next year either as a rider or just come to cheer us on!