By Ron Cox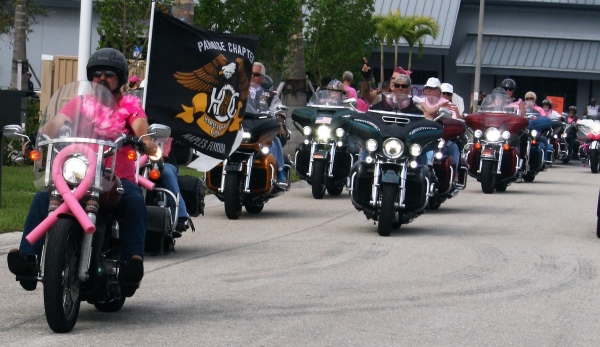 Imagine you're tooling down the Interstate (in this case I-75) on October 7th and you come upon a large group of motorcyclists. But you notice something unusual. The big, burly bikers are all wearing decorated brassieres, both men and women!!!! If you happened to see this then you saw riders on their way to the 9th Annual Momma T's Fly Your Bra Ride hosted by the Paradise Chapter's Ladies of Harley (LOH) at Naples Harley-Davidson.
Fly Your Bra was created by Momma T to raise money and awareness to the issue of breast cancer. Initially funds generated were given to the American Cancer Society for research. For the last few years though, a needy individual who is battling the disease and lives in Collier County became the recipient. The year, Ms. Katie Guerrero was the recipient. Unfortunately, Katie couldn't attend as she is recuperating from serious surgery.
Registration was followed by some low calorie (?) donuts and coffee. At the appointed time, the Collier County Sheriff's Department escort detail took off to make sure the riders had a safe journey. The route included a cruise through downtown Naples, showing the town folk that motorcyclists care about important social issues. Upon return the riders were given box lunches and BBQ'd hot dogs and burgers. There was an in-store poker run with stops in Motorclothes, Parts and the café. The Teakwood Drive band supplied the musical entertainment.