By Miserable George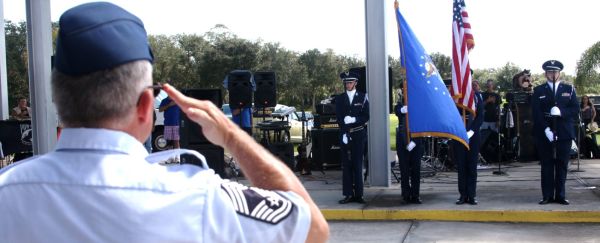 On June 26th, just 2 days before his scheduled deployment, Sgt. Cleveland, while riding his motorcycle, plowed into a car that had pulled out in front of him. The resulting injuries have left him paralyzed from the chest down.
In order to help defray expenses of his family (wife Sharon is also active Air Force,) and two children, a benefit run was held on Sept. 21. It started with breakfast at Amer. Legion #163, Melbourne. From there, it was a run to the Tides Club at Patrick AFB, beachside, where over 200 bikes formed up. Pastor Tim led some prayers before departure for Space Coast Harley Davidson, where live bands, DJ Doc Holiday, food and drink, vendors, and various activities, awaited the riders. There was the presentation of colors, singing of the National Anthem, and a special presentation to Sharon Cleveland, from a Florida state senator. Thanks go out to AVET, and all who helped set up this benefit for Sgt. Cleveland, who has a long road to what we pray will be recovery. It was reported that $10,000 was raised for the family! GOD BLESS AMERICA!!!
Note: This event was in no way affiliated with the US Air Force, nor the Department of Defense.