By Lulu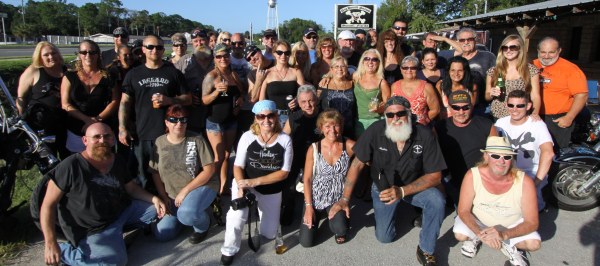 Time passes too quickly, and in August a memorial ride honored Sharon Pedota, a dear personal friend who passed away over a year ago. Sharon's love of life and love of all people she met was obvious when a year after her death, those who miss her joined together for an evening ride.
The ride started at the Dog Pound with free food provided by her boyfriend, Glenn, owner of the Dog Pound and Smiles. Kickstands were up and our stops included Smiles in Palm Coast, the White Eagle Lounge in Korona and a special stop at the beach. The beach stop included lighting Chinese lanterns to release and carry our message of love to the heavens…the wind kept that from being successful, maybe Sharon wanted us to get on with the party and have us end back at the Dog Pound where her favorite music played.
All of know when we meet a true friend, a friend that we know will be with us throughout life…it is tragic when they leave, but memories of the smiles we shared with them along the roadway of life sustain us. That certainly is true of my friend Sharon. Everyone had stories of love and laughter that she gave. The sale of the Chinese lanterns and a 50/50 raised money for the American Cancer Society in Sharon's memory. Sharon you are missed by all!