By Lulu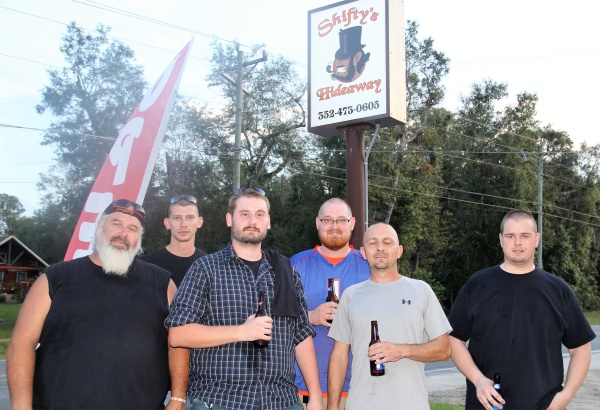 Occasionally paths intersect in life and people who have meant a great deal to you reemerge. And so, it was when Ronnie from Shifty's Hideaway contacted me about an event he was planning at a bar in Keystone Heights. Ronnie has been a friend of mine ever since I have been the owner of Thunder Roads Florida. In fact, he is one of the main reasons I kept the magazine going after Bull's (the original owner of Thunder Roads Florida and my boyfriend at the time) death. You see Bull and Ronnie were friends and from time to time riding buddies. Ronnie is a workaholic so it wasn't often enough that he would get out on two wheels. Bull died suddenly and tragically and both Ronnie and I were devastated. There was a huge memorial run for Bull that Ronnie's bar in Flagler Beach hosted the end stop. At the memorial Ronnie and the crowd encouraged me to keep his legacy going when the corporate office offered me the reins of Thunder Roads Florida. And through the years Ronnie has been one of my ad clients as well as my friend. We have worked together on fundraisers for friends, poker runs for diabetes and just promoting his different bars. He has always stepped up for others and some of those folks were at this party, making it a lot of fun!!
Nearly 10 years later Ronnie said he lost another friend tragically and he told me when he got the call that Shifty had died in a crash on New Year's Eve he had the same terrible sense of loss again. He decided to keep Shifty's Hideaway going in memory of his dear friend. According to Ronnie, P. J. "Shifty" was one of a kind, a good hearted, hardworking guy who was excited to have the bar he was buying from Ronnie. According to Ronnie, Shifty would do anything for anybody. Ronnie wanted to do a music festival in August, but the date coincided with Starke Bike Fest so I suggested he move it to October and he booked Big Engine October 7th. My Hope Chest was looking for a place to do a benefit and so with it being breast cancer awareness month in October it was a perfect fit. For those of you unfamiliar with My Hope Chest it is a charity that helps women who don't have the funds with the cost of reconstructive surgery after mastectomies. This is the first annual Run for the Hills Run and we hope that the event continues. We had a great time, met lots of new friends and loved seeing some friends I haven't seen in years! We hope next year that the date doesn't conflict with other events in the area and I can assure everyone we had no idea anything was scheduled for the 7th at the time we scheduled Big Engine!
Ride safe and ride on…as Ronnie and I both know firsthand…life is short and we are the only ones who can make life a ride worth taking!!! Thank you, my friend, for including Thunder Roads Florida in your event and hope those who were there enjoy the photos, more photos are on Thunder Roads Florida Facebook page.