By Ron Cox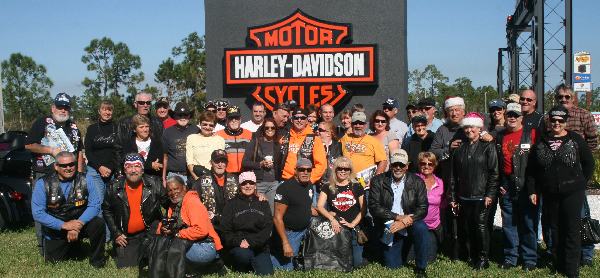 The Southwest Chapter of ABATE hosted its annual Christmas run to the Douglas T. Jacobson State Veterans Home in Port Charlotte on Sunday,
December 20th. The Home is home to 120 Veterans, 112 men and 8 women.
More than 170 riders assembled at Sun Sports Cycle for the police escorted ride to the home. Several clubs from the area sent contingents including the Lost Riders, SWFL HOG, LAMA and the American Legion Riders.
Upon arrival the riders were greeted by many of the Veterans who were seated outside, anxious for their arrival. It was especially poignant when many of the riders, who are Veterans themselves, thanked the elderly Veterans for
their service. Sad to say but the bikers visit will be the only visitors some these aging Veterans will receive all year.
Veterans Home Administrator Liz Barton thanked the riders for their continued support and commented that the money raised from the run will enable each Veteran to receive a $50 Wal-Mart gift card in addition to sundries (socks, underwear, razors, toothpaste & brushes) the riders brought.