By Lulu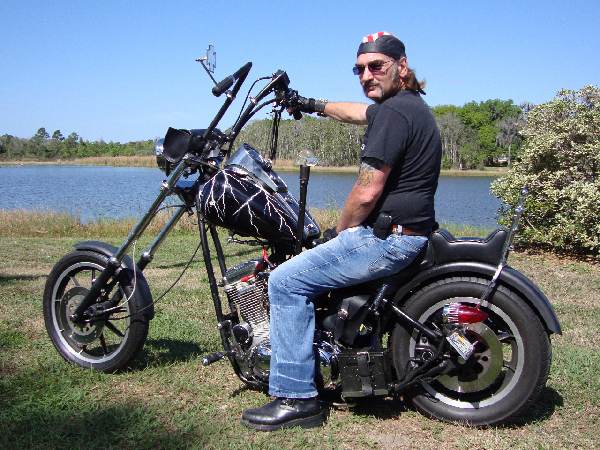 I was lucky enough to meet Kenney Morris at a Bike Night in Clermont and saw the chopper that our Thunder Riders selected to be this month's featured bike. Kenney is a 53 year old originally from Louisville, Kentucky who has been riding since 17 years old. He resides in Groveland now and spends as much time as he can riding.
His first Harley he bought in 1985 which was a 1969 Sportster that in his words was such "a piece of junk that the longest piece of wire was 2 inches and was held together with wire nuts".
The bike he restored is a combination of two bikes he owned. The bike "started out in life as a 1988 883, but is titled as a 2008 ASPT (assembled spare parts title). He combined the 883 with a 1982 Ironhead. A friend, Ed Sherbet, a teacher from MMI helped Kenney get his bike running after Kenney suffered a heart attack in 2010.
The bike features a paint job by a guy known as Two Time from CCR Body Works in Tavares. The lightening theme was chosen due to Kenney's occupation as an electrician and the LED lit eyes in the skull glass paperweight that adorns the suicide shifter adds to the electrical theme. The bike also features a sissy bar that came with the original bike and 16 inch Roland Sand's "vintage" ape hangers. The seat is a Le Pera seat.
Another person Kenney would like to give kudos to is Jerry Jones from Jones Racing in Clermont that did a lot of welding to get his bike on the road. This project bike was just completed in February of 2012 and he looks forward to spending many miles on his new creation!
Photos provided by Stuart Poley.