By Ron Cox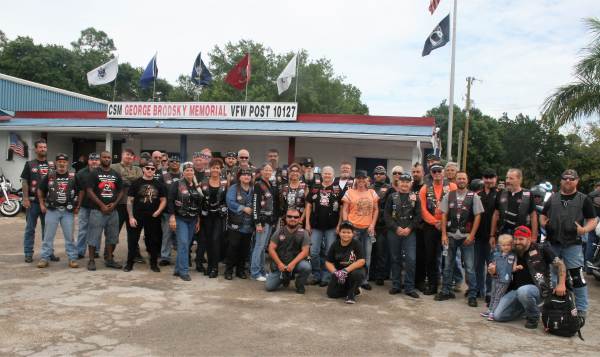 The City of Palms Chapter of Bikers Against Child Abuse (B.A.C.A.) hosted a Passport Run/Scavenger Hunt on April 22nd to raise funds to support its programs to provide for wounded children. The Ft. Myers Chapter is the largest of the 10 Chapters in Florida. B.A.C.A. is an international effort with chapters in 12 countries and 47 states in the U.S. More chapters are being formed internationally.
More than 70 riders/passengers assembled at VFW Post 10127 in North Ft. Myers under threatening skies to register and get directions for the first stop. After a blessing of the bikes, small groups set out to capture the required items.
Riders/passengers ended up at American Legion Post 110 in Port Charlotte. BBQed food, salads, liquid refreshments, an auction and a plethora of raffle prizes awaited the group.
Using their "road names" (don't ask me why) Bounce won the Scavenger Hunt top prize of two round trip tickets aboard the Key West Express. Juicy won the $133 50/50.
B.A.C.A. exists with the intent to create a safer environment for abused children. It exists as a body of bikers to empower children to not feel afraid of the world in which they live. B.A.C.A. stands ready to lend support to our wounded friends by involving them with an established united organization. B.A.C.A. works in conjunction with local and state officials who are already in place to protect children.
On the bottom of every member's vest is the B.A.C.A. motto "No child deserves to live in fear."