By Lulu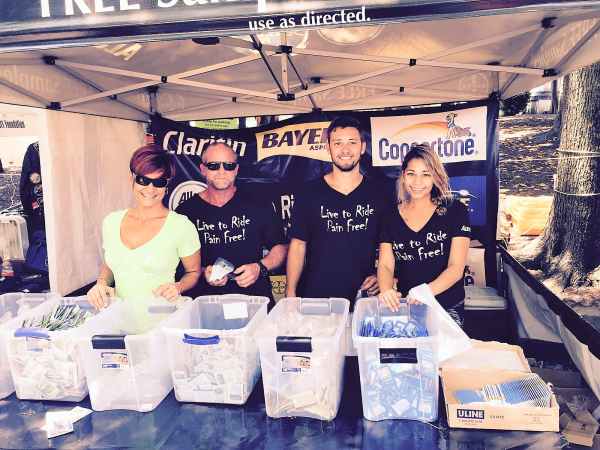 If you have been to any of the major rallies in the USA you have probably been given samples of Bayer Aspirin, Alka-Seltzer, Aleve, Claritin, Dr. Scholl's or Coppertone from a tent set up at key locations. I call the packets they hand out "hangover kits", although they are much more! From Sturgis to Washington, D.C., from Destination Daytona during Bike Week and Biketoberfest to Gator Harley-Davidson during Leesburg Bike Fest you will see their promo tents with smiling faces handing out samples as fast as they can gather them up.
I have ridden from Daytona to Washington D.C. to the Vietnam Wall with Rolling Thunder. Most riding on 2 and 3 wheels are Vietnam Vets…making them a bit on the side of older…just like me! And I can tell you they are happy to see the Bayer tent for their sore bones from the long ride! This promotion does in fact get their name out, but let's be real; everyone knows their product and their brands. Their participation in the rallies sets them apart from other businesses…they participate in this world we love call motorcycling. I want to ask you to remember them and buy their products when you need relief! The company could easily spend the money on TV ads, but stepping into our world at these events needs our loyalty as consumers! There are plenty of competitors on the shelf when you visit your local pharmacy or convenience store for your aches and pains, but those competitors are not handing out free samples in OUR world of bikers are they?
I heard recently someone was biking cross country and started having severe chest pains someone came along and opened their Bayer sample…gave it to him and was credited by the EMTs for saving the biker's life! Keep some of their product in your bike the life you save could be your own!!
And the last public service announcement I need to deliver is the sun is not our friend. Being on a motorcycle we are exposed to more hours of sun on our faces, ears, lips and hands than our friends who ride in a covered vehicle. The more hours of sunburn the greater the risk of skin cancer. So, thank the guys or girls in the Bayer tents for reminding us with their samples to USE SUNSCREEN! Our skin is our largest organ and our greatest defense against dehydration and infection. We need to protect ourselves every time we go outside! You can't even wear sunglasses if you lose an ear to skin cancer! Apply, apply, apply…several times a day!
As far as I can see this should be the biker friendly company of the year!!!