By Ron Cox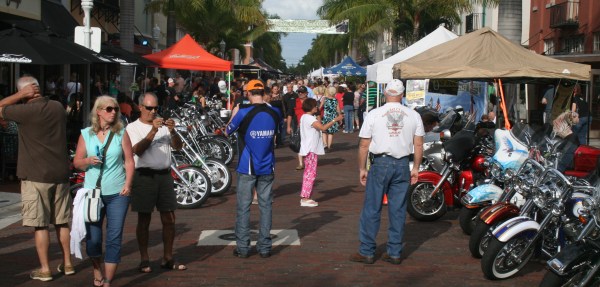 Under a perfect blue sky and low humidity, the City of Ft. Myers hosted its next to last Bike Night on Saturday, March 14th. In an arrangement with the City of Cape Coral, the two alternate hosting Bike Nights.
First Street downtown was closed off and there were bands at each end and vendors on both sides of the street. Cross streets also were lined with vendors and the many eateries in the area had plenty of tables and chairs set up to cater to the hungry bikers. The aroma of charcoal broiled burgers made everybody want to eat not to mention the many lovely barmaids set up curbside to help the riders quench their thirst.
Cape Coral's last Bike Night of the season will be on Saturday, April 11th while Ft. Myers will host its last Bike Night on May 9th. For a great time, hope we see you there!!!!