By Raven Van Pelt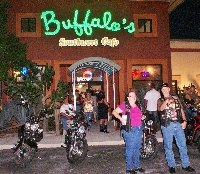 Well as promised, here are Bike Nights, for Monday, Wednesday, and Thursday in Northeast Florida.
My first stop was Monday night, at Whiskey River, located in the Plaza, at St. John's Town Center, and owned by NASCAR's Dale Earnhardt, Jr. They have theirs every Monday night starting at 6 pm, with plenty of drink specials, live bands, and all your favorites on their menu, plenty of large screen TV's, outdoor seating, and the gorgeous girls who work for Whisky River, check it out for yourself.
My second stop was Buffalo's Southwest Cafe, located on Youngerman Circle, Jacksonville. Buffalo's hold their bike night every Wednesday starting from 6 pm till 9 pm. I suggest getting there a little early as they get packed. They also hold bike runs, as well. They also have an extensive menu from chicken to burgers and ice cold beer, always on hand, with live bands as well.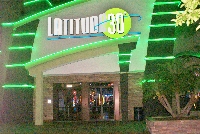 My last stop was Thursday night, stopping at Latitude 30 on Philips Hwy. in Jacksonville. They hold their bike nights from 6 to 10 pm, and have seating outside as well. I have to admit this place still gets my attention. Latitude 30 doesn't look as big as it is, but once you walk in, you will see what I'm talking about. You are just going to have to check it out, for yourself. So keep it shiny side up, and will have more info for you soon.