By Raven Van Pelt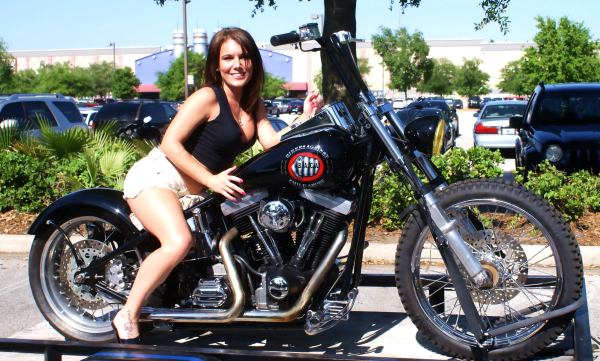 The 1st annual B.A.C.A. fund raiser was held on April 26th, along with Mind Ride Cycle's custom bike giveaway by 106.9 Planet Radio. There were multiple stops throughout the city that started at The Southern Grill located on Flagler Ave. in San Marco. The final stop was at Wild Wings Cafe in Tinsel Town on South Side Blvd., where everyone enjoyed live music, food; raffles and the bike give away.
B.A.C.A. exists with the intent to create a safer environment for abused children. They exist as a body of bikers to empower children not to feel afraid of the world in which they live.
It has been in existence since 1995, with Chapters across the U.S. and in 9 countries and growing. They are a non-profit organization of dedicated, background screened, volunteers who ride with the purpose of supporting our wounded warriors by their physical presence and will sit with a child for as long as it takes for that child to feel safe. An organization of men and women who will step up 24/7, whatever it takes, in order to protect and secure a sexually, physically or emotionally abused child's basic right to be a kid.
BACA is there to give an ear, or to ride, to play, or just sit and talk to a child. BACA is there to help with therapy, depositions, and all court appearances. It is hard and we believe no child should have to go through that alone.
In Florida, we have 4 Chapters centered in Jacksonville, Orlando, Lakeland and Pensacola, with 2 temporary Chapters in Daytona and Tarpon Springs.  We are growing in South Florida as well.
How can you support your local BACA?  If you ride, why not ride with a purpose?  Contact your local Chapter and attend a monthly public meeting. Should you know a child or a family that you think BACA could help, tell them about us we are easy to find! Your tax deductible charitable donations are always welcome and help with a vest, road name, teddy bear and backpack for a kid.
B.A.C.A. ® OF FLORIDA CHAPTERS
Hurricane Alley Chapter     Helpline (850) 217.2366     Pensacola
Seven Bridges Chapter      Helpline (877) 848.3869     Jacksonville, Daytona
Tri – County Chapter           Helpline (407) 227.2134     Orlando
Thousand Lakes Chapter Helpline (863) 588.6560     Lakeland, Tarpon Springs
Remember to visit our International Website: WWW.BACAWORLD.ORG