By Miserable George
Man, I'll tell ya, the 2012 Biketoberfest edition of Willie's show was as good as any I've ever seen…maybe better! Eleven years, and getting better every year! Yeah, it was HOT, but the huge crowd braved the late summer warm spell, and came out to check out some of the rarest and hottest hand-made choppers in the state of Florida!
As an added incentive, the builders were competing for some of the most unusual hand-fabricated trophies I've ever seen…most fashioned from discarded motorcycle parts, along with plaques, bowling pins, and a Mason jar goblet, containing some questionable liquid, that when sipped, caused a funny look to appear on the drinkers' face! Hmmmm! I wonder…..! Contributors of these trophies included world famous bike builder, Dave Perewitz, and well known Easyriders photog and writer…Rogue.
Also in attendance was world class motorcycle event photographer, Michael Lichter from Paisano Publications. Hey, this event was COVERED!! Doing his usual bang-up job as emcee, Roadside Marty kept the crowd in stitches, as well as, keeping the show moving along at a fast pace. And, as always, Willie always recruits a bunch of hotties to act as trophy girls.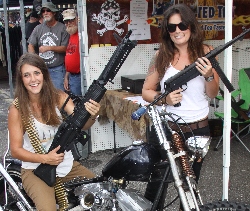 The several beer stations around the grounds were manned by some real eye candy as well. Oh yeah, just $2.00 for a beer…not bad, while many other places hawked it for $4.00 or more! Live bands all day long were the icing on the cake, as well as, some good food vendors! Yep, yer gonna go pretty far to beat this show, that is, if it CAN be beat! It's my favorite event of Biketoberfest or Bike Week. Give it a shot…easy to find, right on US#1 in Holly Hill. Lots of free parking all around the place. Hey, ride safe…