By Lulu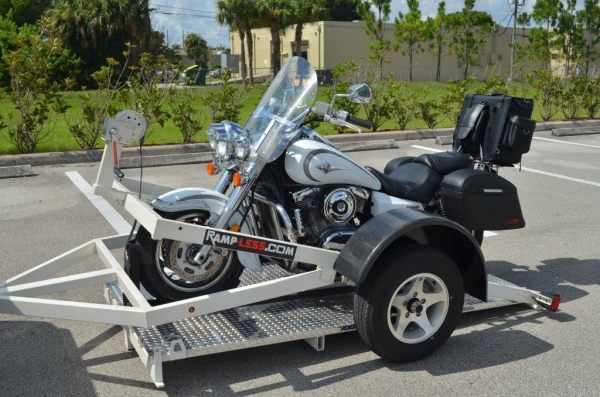 Most everyone would rather just get on their bike and ride to their destination, but time, weather and aches and pains can make long hauls impossible. The thought of loading your bike on a ramp of any kind or into the back of a pickup truck can be frightening. Too many trips, even just to a repair shop, I have seen become nightmares when the bike being loaded tipped over damaging the bike and even the rider. So, when I watched the video on Rampless Motorcycle Trailers website I was impressed. Even more impressive is seeing it live! They will be set up during Bike Week inside Bruce Rossmeyer 's Daytona Harley-Dealer one of their distributors.
SAFE, FAST & EASY to load…your feet remain planted firmly on the ground, as the trailer bed lowers to the ground! You can tow with confidence! No danger to you or your bike! And it is a one woman (or man) operation. The entire load or unload is done while hooked to your vehicle!
The trailers are made in Ft. Lauderdale with domestic steel, DOT compliant and come with a VIN. Wiring is internal in the tubular frame for protection. Self-locking front wheel chocks are made in the USA by Condor Products, #1 rated nationwide. The trailer colors can be customized with powder coat, aluminum wheel upgrades, stone guard or a spare tire kit. These trailers are built to last.
The company began in 2016 when Dan Scott acquired the patent and formed a partnership with Sam Graffeo, owner of SG Steel. Dan and Sam are both avid riders and fell in love with the ease of this product. They perfected the trailer for single, double, ATV and Trikes. The company is rapidly expanding and distributorships are now available.
They are based in Ft. Lauderdale at 850 NW 61st St. Call them for more information at 954-218-6611. Visit their website RampLess.com. You won't meet nicer peeps, so stop in and check out Rampless during Bike Week at Bruce Rossmeyer's Daytona Harley-Davidson, buy yourself a trailer and take the worry out of hauling your pride and joy!