By Lil Jon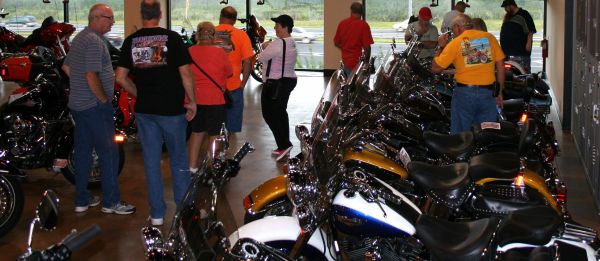 Yep, everybody wanted change and when Obama couldn't deliver Harley did, from hood air vents and latches to large screen radios. Oh yea did I say that they're water cooled? So that when you are stuck downtown in traffic you don't burn up.
On September 19th Rossmeyer Harley lines up the 2014s. It was an after hour party from 6-9p with food, a fashion show, games and giveaways. The fashion show was neat, from leather to bling, even luggage or something for your pet!
The show room is full of all kinds of "can't do with outs"! So stop and show and pick out that new Harley or step up to something a little different. They have plenty of new and used bikes. While you are there check out their service department, have a little something to eat in their new cafeteria or buy something new to wear. And if you haven't scrapped those love bugs off your ride or if you just want your old ride to look new…stop across the parking lot or make an appointment with the Rossmeyer detail team.
Ride safe…don't let that road rage stuff take you off your two wheels!
On a safety note: This is for all you bikers…road rage does not pay off. Cars and trucks always win, besides we are always portrayed as the bad guys. Too many bikers are getting run over during road rage episodes. Here's an idea…when you get cut off just smile and wave. I have found that works on them more than trying to fight and trust me they know what they did; besides it is not always intentional. And being stupid is not against the law "yet"…ride safe.