By Lulu
[like url=http://thunderroadsflorida.com/?p=1662 action=like]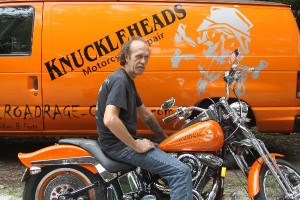 This month's Bull's Eye is a well known biker in the Daytona/Ormond area it is Troy Robertson. Troy was born in Gibson Station, Virginia and moved to Florida in 1994 for better riding weather and "to escape ex-wives". He started riding at 9 years old on dirt bikes and credits his father for introducing him to the world of motorcycles. Troy spent a bit of his life drag racing bikes when "I was young and more stupid than I am now!" Now bikes are his livelihood and passion. He currently rides a 1993 Screaming Eagle Springer.
Although Troy has a degree in graphic art he has earned a living as a mechanic, both motorcycles and autos, most of his life. He has owned Knucklehead's just north of Iron Horse since 2005. They build custom bikes, fabricate and repair all makes of bikes. Tucked away under a huge oak they have been busy anytime I have been on the property, with a variety of bikes lined up for work by one of the best. Knucklehead's is open 6 days (closed Sundays) except during Bike Week and Biketoberfest when they are open 7 days for those that run into bike problems.
As good as he is in the world of bike repairs, he is equally a great musician and that skill he learned from his mom. He plays guitar, mandolin and the banjo. AND has a great voice that is soulful and perfect for singing the blues! Not many musicians can say they have carved a guitar out of wood, but Troy actually has a woodshop and makes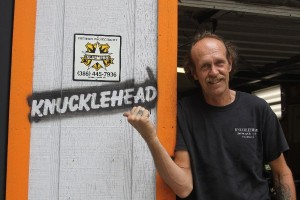 guitars also.
Troy is the proud father of 5 children and the grandfather of 5. When not working or spending time with his family he loves to perform. If you need bike repairs call 386-307-5210, or if you want to hear a super musician Troy plays on Thursday nights at the White Eagle in Korona and often sits in with bands including the Payne Brothers or 3 Headed Step Child. You will be in for a treat if you are lucky enough to hear him sing or play and your bike will be in great hands if you need bike repairs!