By Lulu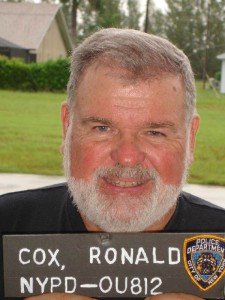 This month's Bull's Eye is a personal friend of mine. He is adored by anyone who knows him. Ron Cox has written for Thunder Roads for several years now and is an avid motorcycle enthusiast with a jolly sense of humor, as you can see from the pictures he sent!
Born in New York City, he received a BBA from St. Francis College in Brooklyn and an MA from Syracuse, majoring in PR Administration and Communications. Ron worked 28 years for the Brooklyn Union Gas Company which has changed names two or three times. His last position was Director of Community Relations for Queens County, until he was "encouraged" to retire (at age 52). His son currently works for the company now and has for 20 years. Like father, like son!
While stationed in Japan with the USAF a friend went to Korea for 30 days and lent Ron his bike, a Honda 305cc. He actually got his first motorcycle endorsement while in Japan and his taste of the life on 2 wheels.
That must have given him the bug, but it was in 1975 at the age of 30 when he bought his first Harley. It was a piece of "$hit", Ron's word, not mine. "It was when the Motor Company was still under the auspices of AMF", according to Ron. He sold it shortly thereafter and went back to a 750cc Honda. The Honda was stolen from outside his house in Brooklyn, so he replaced it with another 750 Honda.
When Ron received a promotion at work he traded in that Honda for an '82 FLH. He kept that one for three years, then traded it in for an '86 Harley Liberty edition. It was sideswiped ten years later and NYC Harley could not get Liberty Edition replacement parts/decals, so Ron ended up with an all black FLHTC. Sometime after that Ron added a second bike to the "herd", a retired NYPD police bike, and he has had two Harleys ever since. A few bikes later, he now has a '02 FLHTC Fireman's edition (bought second hand) and a '07 FLHTPI, a retired Collier County police bike.
Ron and his wife Cathy, who passed away this year, were both avid members of Harley Owners Group (HOG). Ron has been a member since 1982 when HOG was founded. He was with NYC HOG for many years as Activities Officer and later as Director for 2 1/2 years.
Cathy and Ron followed their two daughters to Cape Coral seven years ago, and joined SWFL HOG. Ron served as Activities Officer for many years. One of Ron's daughters is in law enforcement and the other is the Marketing Director for a commercial real estate firm.
I have been fortunate enough to watch Ron in action using his PR background to help promote fundraising motorcycle events for charities like the March of Dimes and the Muscular Dystrophy Association. Ron is the media contact for his HOG Chapter's Easter Bunny Toy Run, one of the largest runs in SW Florida. His smile is infectious and is his best asset to get people involved!
Ron's red bike (featured in this article) has more than 55,000 miles on it, thirty five thousand he rode. Ron has made the trip to Milwaukee twice, for Harley's 100th and 105th. He also made the trip from NYC for the 90th and 95th on one of his other bikes. He says that if Harley has a 110th he'll probably make that ride too! And that is what makes Ron our choice for December's Bull's Eye!