By Lulu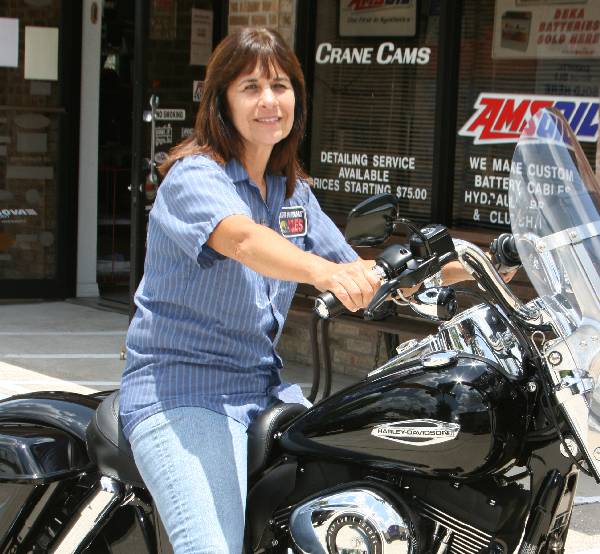 Each Bull's Eye article features a person who is embedded in the world of motorcycles and this one is no different. Joanne "Jo" Zinn was born in New Bedford, Massachusetts, her family moved to Daytona when she was 14. Her story started as a child riding with her father John Cunha. She would help him work on his hot rod and bikes, which included an Indian and then a Harley. "Jo" got the motorcycle bug at an early age, but in her younger days she was a "back seat" rider.
It wasn't until Barry Zinn came into her life that she became totally engrossed in the world of biking. Joanne and Barry met on the internet in 1999. What caught her eye was that he loved motorcycles. At the time, Barry owned Millennium Cycles. Shortly after, Barry took a job with Titan Motorcycles and they moved to Phoenix. When they returned to Daytona both worked with Arlen Ness at Destination Daytona. Jo worked in the service department as a service writer and on warranty work. On a trip to New Orleans Barry asked Jo to be his wife and they have been married for 8 years now. Seven and a half years ago together they opened Crank & Chrome on US 1 in Holly Hill.
When she decided to get her endorsement she found it challenging, but now she keeps up with the "Big Dogs" like a pro. Barry built Jo her first bike a really sharp bobber. Not really loving that bike for distance riding she got a 2009 Dyna Street Bob. She presently rides a beautiful all black 2012 Harley Davidson Switch Back.
As all of you know that own your own business…you eat, sleep and drink it. When I asked Jo about extracurricular activities she laughed and said their business is all consuming, although she does enjoy her three dogs and gardening. But as busy as she is with business they make time to enjoy riding. On the second Sunday every month promptly at 10 am they have a group ride that leaves their shop. We have ridden with them on one and a really great group of folks that ride safely made the day a pleasure. All bikes are welcome and it doesn't matter if you are a customer already or not.
Another community project she and Barry devote their time to is their yearly ride for Hospice…Crankin' It for Hospice. This year it will be on October 28th. Jo's mom required Hospice care and this is their way of honoring her mom and giving back to an organization that helped during a very difficult time.
If you are looking for GREAT service work in the greater Daytona area, check out Crank & Chrome. Micah has used them for years and swears by their work! And don't forget to ride with us on October 28th for Hospice!