By "Kneecap"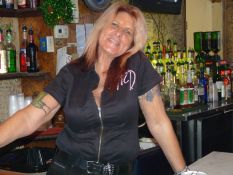 I always thought that without my brilliant wit and charm all those poor bartenders would be so dreadfully bored, then I met MaryAnn Muir. There's nothing that would bore this bartender because she always has a smile and a cheerful word for anybody at the bar. She was born in Bronx, NY and raised in Woodbridge and Point Pleasant, NJ. I guess we could call her one of the Jersey shore girls, but Snooki would be jealous. She likes to brag that she is 64 years old, single and likes to party hearty. To our good fortune, MaryAnn came to Daytona in 1986. She has two kids and four grandchildren. Her daughter JoJo works as a bartender at the Foxhead Lounge in Osteen. Like her mother I guess talent for bartending runs in the family. When I did this interview she had just returned from New Orleans where she was celebrating one of her grandchild's 21st birthday.
In 1997 she decided to ride her own bike, so she bought a 1982 Shovelhead. She now rides a 2006 Heritage Deluxe which can be seen in Cabbage Patches centerfold ad of the June issue of Thunder Roads Florida Magazine. She's known for not doing anything halfway so she became a Boozette in the Boozefighters MC #68 "a nonprofit organization that raises money to help vets, children and the poor".and a road captain for the Lonesome Losers.
She been a bartender for the past eight years at the Cabbage Patch Bar jn Samsula. She also worked at Pub 44 for three years.
The only flaw that I found in her is that proves the old adage "You can take the girl out of the North but you can't take the North out of the girl". She's a big New York Giants and New York Yankees fan.
Stop by and help her root for her teams. They need all the help they can get.