By LuLu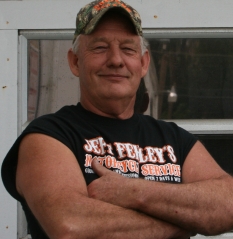 Living in the Daytona Beach area, I know for a fact it is hard to find a true native Floridian, but this month's Bull's Eye takes the prize for that one. Snake Andress was Holly Hill born and raised! In fact, he was born in the house he still lives in 63 years ago. Anyone who knows Snake probably can tell you where his nickname originates from, but for those who don't know Snake I had to ask. As a child around 10 years old he would catch snakes of all types and sell them for 50 cents a foot to "The Sea Zoo" for spending money. Snake claims to have been bit a few times, but not by anything poisonous.
He played high school sports hard enough to be "broke up too bad" to join the service or to be drafted, he swears "it was a physical deferment NOT a mental deferment"! He enrolled in a trade school and has spent his working life as a welder. He has had his own welding business now for 40 years. He specializes in small repairs now, as he is semi-retired. Snake does a lot of motorcycle welding for local shops such as Crank N Chrome and Black Gold.
Snake's first bike was a Honda 50 Super Sport at 14 years old, probably purchased with some of that "snake by the foot money". His first Harley was a Sportster in 1992. He now has 7 bikes in his stable including a 2008 Road King that they travel to Myrtle Beach on, 1993 Dyna Wide Glide, 1999 Honda Shadow, 2 Sportsters, 1 Super Glide and finally another Road King. When asked what got him riding he simply stated, "The need for transportation, I got tired of bicycles real quick." Snake says he enjoys riding now for pleasure and spending time with the group of friends who share his love of riding. He says, "When I am not burning welding rods, I am burning rubber", either on his motorcycles or in his drag car. The proof he claims is on the road in front of his home! In the garage along with his 7 bikes are a 1964 Falcon and a 1963 Falcon Pro Street that he drag races.
Snake has been involved in local politics for the past 20+ years. (Wow, most political activist would never want to be referred to as Snake!) This involvement has led him to help with Hogs on the Hill during Bike Week in Holly Hill. According to his friends he also throws one hell of a biker party during Bike Week and Biketoberfest feeding up to 160 friends! They claim it is a "Little Iron Horse" during his party.
Finally, I want to say that Snake is a good man that is an honorary Holly Hill police officer and works special details such as parades. During Hurricanes Andrew and Hugo he worked search and rescue and helped with debris removal to get to those in need.
Snake is a fun, funny and happy guy, that I can tell his friends are proud to know.