By LuLu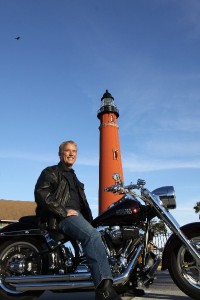 Each month this column features someone who loves to ride and this month is no exception. David Sweat from Ponce Inlet has been riding since 15. He started on a Suzuki RM 250 and began riding with friends. He presently owns a 2003 Fat Boy and you will see him regularly on local charity rides. Born in Atlanta, Georgia, he was raised in North Carolina. He attended college at East Carolina and Law School at Nova in Ft. Lauderdale. Another passion for David is surfing so living on the east coast of Florida fits perfectly. David rides because he loves the freedom of riding. On the bike he can really get away from his office and the stress.
Like many of our Bull's Eyes, David also spends a good deal of his professional life involved with motorcycles. Being a trial attorney with Rue & Ziffra has allowed him to represent clients that have been injured in motorcycle accidents. When asked why he is so passionate about representing bikers his reply was, "The odds are against you in motorcycle cases. The law, insurance companies and juries treat motorcyclist differently at a variety of levels." As a motorcycle enthusiast he is particularly attuned to this and who better to have "in your community on your side" as the law firm's tag line states.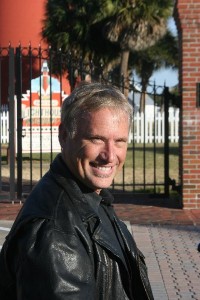 The Rue & Ziffra firm is very involved in community charities such as Toys for Tots. But their involvement reaches into the biker community as they are often sponsors of biker events including the Red Knight's 911 run. The radio spots they provided made this year's run one of the biggest ever. David's firm has even sponsored a motorcycle race team in the past.
If you see David and his posse of friends out and about, introduce your self. He is a great guy, very approachable and truly deserves to be our Bull's Eye this month.  David is truly in our community of bikers and "on our side".