By Kneecap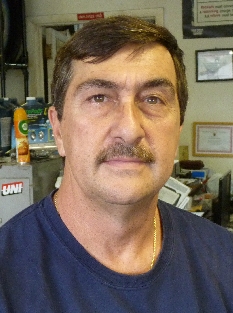 It's not often that Lulu allows me to write an article for Bull's Eye. This featured column was started by Thunder Roads Florida's original editor Chad "Bull" Connors. Since his death, Lulu has kept this great article alive. In order to be featured in this article, you need to be a real biker.
For this month we've gone over and above, a biker, plus a guy who wrenches many bikes. Scott McNitt was born in Jamestown, New York. Scott moved to Flagler Beach in 1965. One of his most impressive accomplishments is being married to his wife Judy (Overbeck) for 33 years to which they have had two children, a daughter and a son and two grandsons.
At the age of 8 he bought his first bike a Kawasaki mini trail. In the 70s he raced scrambles in Korona, Florida. He's always worked on his own bikes. After graduating from Flagler Palm Coast High in 1978 he headed north on his 650 Yamaha. After he met his wife, Judy, they headed back here on the same bike in the snow in November. They went all the way to Key West before they realized Flagler Beach was Scott's home.
Scott worked as an auto tech for 25 years, but knew his true calling was a mechanic wrenching on motorcycles. In 1997 Scott had the opportunity to purchase Tri-City Cycles after Ed Sarfde died who had the shop since 1986. This gave him the chance to ride and work on thousands of different bikes, both metric and American. The drawback, no more vacations during  bike weeks. Denise Sarfde (Ed's widow) who has been in the shop for 23 years, stayed with Scott and runs the front office.
It would be hard to find anybody who is  more honest and treats his customers like you would want to be treated than Scott. This is evident by the support he gets from the locals and tourists.
Tri-City Cycles has supported this magazine for years. I'd like to see you support them. Go say hi to Scott and Denise at 308 S. 2nd St., Flagler Beach.