By Lulu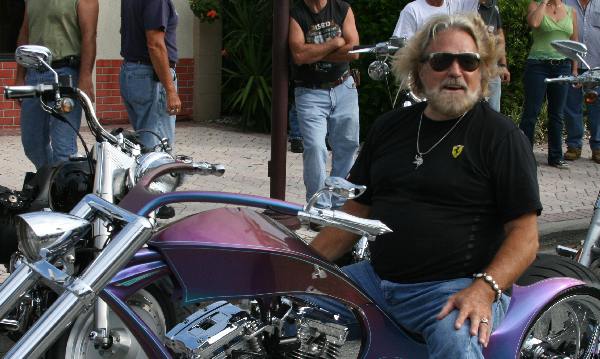 I have only repeated a Bull's Eye one other time and that was when Bruce Rossmeyer passed away, but a very dear friend of mine and of bikers in Florida died this month and I wanted to rerun the article I wrote about him years ago. Thank you for reading about someone I admired and loved dearly and will be missed by family, friends and fans!!!
There are people in life who simply live each moment, for the moment and make that moment as full as it can possibly be. Dan Haggerty, a.k.a. Grizzly Adams, is one such soul. Born in Hollywood, CA, raised in a Franciscan monastery from the age of 7-16, he was destined to spread his wings once he left to explore the world. Throughout his entire life, he has been in the midst of interesting and extraordinary people. His grandfather was the president of the AFL-CIO. His father was an Olympic skier and a union rep for the film industry. In his youth he fell in love with exotic animals and nature.
He befriended Mabel Stark, a 75 year old animal handler with Barnum and Bailey Circus. She gave him his first lion cub, which started him down the road of being an animal trainer in the film industry. He still has a game park, Wild Life Images, in Grant Pass, Oregon. At 14, he chopped his bicycle and the custom bikes he has built look very similar to that early creation. By the age of 16, he was working under Von Dutch, where he learned painting and pin striping. He has owned his own leather business, Cornocopia. He made the hat Clint Eastwood wore in Two Mules for Sister Sarah.
While at work in his leather shop with his pet wolf at his side, he was approached to have the wolf star in a movie in the south of France. So, as a true adventure seeker would; he closed up shop and flew off to France. Loving the country and life style he stayed for two years and while there attended the Cordon Bleu Culinary School. He was an animal trainer for the TV series, Tarzan, filmed in Brazil. A scene in a movie, in which he wrestled a Siberian Tiger, led to his landing the part of Grizzly Adams in the movie and eventually, the TV series with his co-star Ben. He has built custom bikes for Bill Smith of Rich Man, Poor Man fame, and Ann Margret. Dan, Sugar Bear and Tex Hall built the famous red, white and blue bikes in Easy Rider.
Today he is involved with Club Navigo Resorts as their spokesman and he says being in Florida has been an energy boost for him. He also is involved in a line of log cabins, Lang Creek Log Homes. Dan filmed 86 episodes of the Life and Times of Grizzly Adams, he has a full page of movies he has been in, including Girl Crazy with Elvis Presley, Muscle Beach with Frankie Avalon and Annette Funicello and even Easy Rider. He was the stunt man; animal trainer and actor in Snow Tiger which he helped bring to the screen with an $185,000 budget. This film's return for the studio was a 435 million dollar. If all of this doesn't exhaust you, trying to get it all down on one page did me! Yet this 67 year old doesn't seem to rest. A new Grizzly Adams film is to begin filming this spring with co-stars that include David Carradine, Robbie Knievel and possibly Drew Barrymore as his granddaughter.
He is on his bike more than just about anyone I know. When asked about his love of riding he replied, "My bike is my girlfriend, one day I love her and the next day we're cranky, but the sound of a Harley and Ferrari are the two greatest sounds in the world." Even a horrible MC accident in Benedict Canyon in 1994 which actually resulted in a death notice with his name on it, and left him with a bad leg, didn't keep him off two wheels. He says he meets the most wonderful people on two wheels, recalling a time on The Love Ride out west, when the man riding next to him introduced himself and it was Malcolm Forbes.
Talented…energetic…creative…adventuresome…loving…extremely funny and smart, but the two things that leave me in total awe of Dan is his passion for people and commitment to helping charities like Angel Flight and Shand's Burn Center. He NEVER seems to tire of requests for pictures with him and when he signs an autograph it is never a quick Dan Haggerty, it becomes a touch and a conversation. At that moment the person making the request is the most important person in the room. In a crowded room, before anyone realizes who he is, he fills the room with such energy, people want to be close to him and his energy for this amazes me. This is a biker with a story that had so many bumps in the road anyone else would have put their kickstand down, but not "Hag" as his brother refers to him. His mother, Ruthie, says "being Dan's mother is like being on a roller coaster". But when you live a grand life you take the good with the bad and just focus on the next cycle of life. In Dan's words, "Nothing remains the same". I would have to argue with Dan on that, the love and respect of Dan's friends and fans will always remain the same…