By LuLu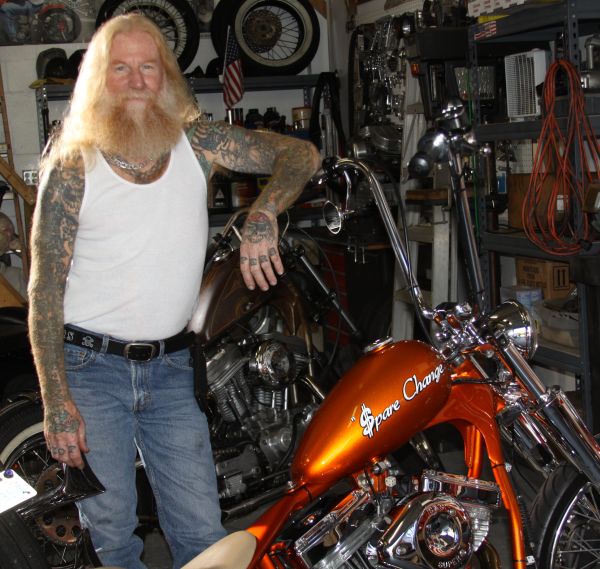 Everyone who travels the greater Daytona area on two wheels has probably crossed paths with Marcus Orabone. Born 61 years ago in Troy, New York his family moved to Sudbury, Massachusetts where he and a rat pack of friends became hot rod fanatics or as Marcus refers to them "motorheads". As a young man he joined the Navy and was stationed on the US Blue Ridge where he honed his skills as a engineman 3rd class. When he returned home his friends had moved from 4 wheels to two, and he quickly tired of following them around town in a cage. His first bike was a 1962 Sportster which rode him into a lifetime of biking. He has always tinkered on cars and bikes, and it would be hard to guess whether he has logged more hours on the road or wrenching with friends in a garage!
Eventually he came to Daytona for Bike Week and fell in love with Florida, within 2 years he was back to stay. He has worked in air conditioning, but presently works as the front man for Tropical Tattoo on US 1 in Ormond. That was the headquarters for his Florida posse that he rides with, a tight group of well inked free spirits that love bikes, cars and women. They encouraged him to open a garage to work on their bikes. He conceded that they had outgrown his single wide trailer where he would be working on friends' rides or building new ones. So five friends (Willie, Jon, Joe, Louie and Shaun) rented a warehouse they named Trailer Trash Choppers and it is more like a "big boy" clubhouse. Marcus' love of swap meets quickly filled the warehouse and every lift has a frame in various stages of repairs or builds. Presently Joe, Shaun and Marcus keep the "hobby shop" going.
Marcus currently has 4 bikes in his stable that are all unique and road worthy, and 3 that are in various stages of a build. His first total built followed an accident in which he totaled his bike and asked Tombstone Motorcycles to allow him to do the build giving them the insurance money, but only used their garage and knowledge to rebuild the bike. He seems to prefer Evo's as 4 of his 4 current bikes are that genre. One of his bikes that I really love is called "Spare Change" a 1997 Evo which has real change used anywhere you might find a washer, painted by Pinstripe Joey an incredible orange. He definitely has a sense of artistry. Many of the bikes are more of a rat rod look complete with rust. The garage is packed with parts, bikes and friends. I was impressed at how organized the garage appeared.
Marcus is well loved by all who know him, and he always is happy to lend a hand with whatever project Willie from Tropical takes on, whether it is their bi-annual Ol' School Chopper Show (one of the biggest, best and most bad assed bike shows anywhere), or their monthly event at the Iron Horse Saloon. Hell, Marcus has even dabbled in modeling and has been featured in the Iron Horse Saloon's clothing catalog! Aw, such a pretty boy…Adam Levine (sexiest man of 2013) doesn't have anything on Marcus!
Along with his love of riding he has a daughter Ashley and two grandsons, Jaedin and Kaspen, that he clearly loves. Anyone who can call Marcus his friend is a lucky man, not only for his knowledge of motorcycles; but his love of life and his need for time on two wheels.