By Lulu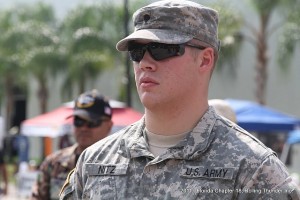 This month's Bull's Eye I met at Seminole Harley where he received a really nice surprise. Stephen Nitz is a 22 year old born in Charleston, South Carolina. He lives in Lake in the Hills, Illinois where his mom also resides. His father, Rick, also a motorcycle enthusiast lives in Orlando and rides an Ultra Classic. Stephen joined the Army and was stationed out of Ft. Stewart, Georgia and was deployed to Iraq where he spent 15 months and then a one year in Afghanistan. Although his job was driving trucks he experienced some difficult times while defending freedom, as our military does, as part of their everyday existance.
His first bike was a mini bike at about 7 years old. Stephen moved up to dirt bikes and then spent a bit of time being a "crotch rocket kind of guy". His first Harley he bought in 2008, a 2005 Sportster 1200 XLC. Rick (Stephen's dad) surprised him with help from an organization Wish for Our Heroes. Rick had major work done on his son's Harley which was unveiled at a Rolling Thunder event at Seminole Harley. The improvements included a Harley skull package, raked forks by Curt Seegar Cycles in Ohio, new pipes by Pipe Dreamz, an Army logo air intake and Ron Schroader did a complete maintenance so that he would be ready to hit the highway upon his return to the states decked out with things he had only dreamed of on his bike.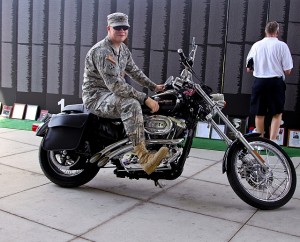 Stephen is a really nice young man that was just thrilled with the surprise. It was wonderful to see something special happen to someone that has been there for our country. A very special thank you goes out to those who helped with the gifts and to Stephen for his brave efforts on behalf of the USA. According to Stephen "I will be riding until I can no longer ride"! And that's what makes a Bull's Eye!
[like url=http://thunderroadsflorida.com/?p=1514 action=like]