By LuLu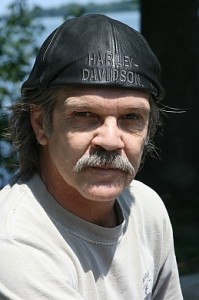 During Leesburg I was lucky enough to meet Bradley a.k.a Shortster at our Thunder Riders event during Leesburg Bike Fest. He had quite a story to relate about his bike Sally. Bradley is a 52 year old transplant from Ashtabula, Ohio that settled in Ocala after his stint in the Army.
He landed in Ocala in 1984 to work as a horse rider for the thoroughbred industry. He says he started riding horses and bikes at 8 years old. He retired from riding the "the ponies" in 1990 after "too many broken bones and broken promises from trainers", in his words "I did not wish to gallop horses for the rest of my life".
Not the same for steel ponies though. His love of motorcycles started with a mini bike and he says he was addicted the moment he sat on the seat. He had a custom bike shop in Ocala from 1993-2004 and has been working on bikes for over 40 years and rendering custom paint for 27 years.
He has owned over 50 bikes during his life. Presently he owns Sally a 1981 FLHS which he bought used. This bike was owned originally by George Terry, Eric Clapton's guitar pal who played in Eric's first band.
George Terry lives on Guitar Drive in Sebring and invited Shortster to his home when he learned he had purchased and restored Sally. On his CD titled Guitar Lane there is a song "She's My Harley Davidson" which George wrote about Sally.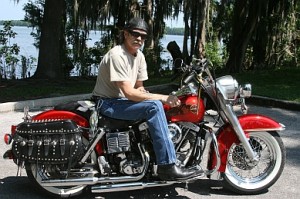 Bradley totally restored the bike to its original look and has shown Sally 15 times since 2000 and has won over 15 trophies with her. You can tell while talking to Bradley he is crazy about this bike and I doubt will ever let this one go.  He has all the original paper work from 1981 when George purchased the bike at Peterson's Harley in Miami and pictures of George signing the bike at his home.
Other than his love of bikes he has two children he loves a daughter, Tracy, that rides and a 10 year old son Bradley, Jr. that is dreaming and waiting for his day to ride.Thanks for riding with us to Sugarloaf Mountain Rd. with us Bradley and sharing your story of Sally.
[like url=http://thunderroadsflorida.com/?p=1341 action=recommend]