By Lulu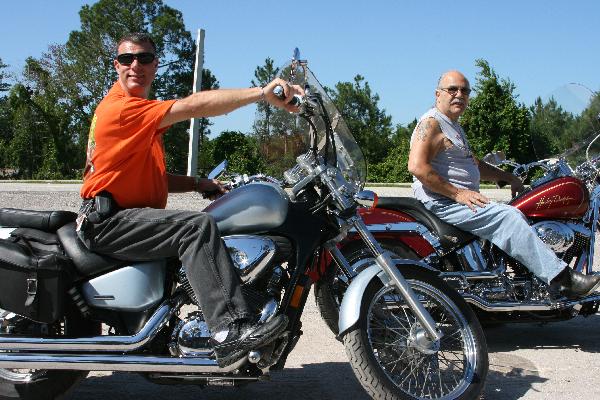 Usually we feature a male or female rider in our "Bull's Eye" that spends a good portion of their lives on bikes. This month it is a father/son pair that we focused our cameras on.
Greg DeRosa and his father Leo share their love of riding, and it has given them a special bond.
Leo is a 68 year old who rode motorcycles in Brooklyn as a young man, but the responsibility of fatherhood and business curtailed his riding at 28. In 2004 he was diagnosed with an aggressive cancer and he told his wife, "We have a lot to do!" Rose his wife of 52 years, was surprised where that statement took them. He purchased a 2004 Fat Boy. And as the Billy Joel song goes "bought a ticket to the West Coast" only in their case it was the East Coast of Florida. They settled into Palm Coast.
Greg, who has had some difficult struggles of his own to overcome, would be sitting in the garage on his dad's bike. So, four years ago his father realized this could be something the two of them could share. Even with Greg's disabilities he was the highest achiever in his motorcycle endorsement course and has proved to be a safe rider. First Greg learned on a 50cc scooter that he quickly put 500 miles on. Dad moved him up to a Q Link with an automatic transmission. 5000 miles on that bike proved he was ready for a Honda VRX 600. He has already put over 31,000 miles on it. He occasionally rides his dad's Fat Boy and may be leaning towards a Harley for his next bike.
Riding again has allowed Leo to be in a "glorious place" and he has been blessed as his cancer has been in remission. Greg says the "fresh air clears his mind". They often ride together on charity rides and have spent hours exploring on their motorcycles. The first time I rode with Greg was a few years back on the Boggy Creek Ride for Children. Even my boyfriend Micah commented on Greg's excellent riding skills. Greg works at Publix in Palm Coast, so if you see him there or on a charity ride let him know you saw him featured in Thunder Roads Florida.