By Raven Van Pelt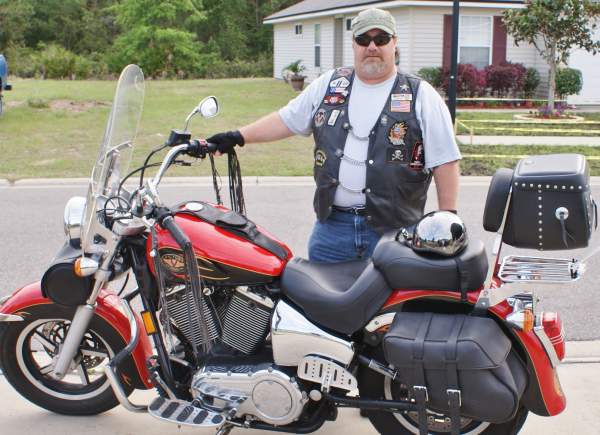 This month's Bull's Eye is someone many in Duval and Nassau counties know as a Tippy. Marc "Tippy" Pica is the Associate Director of Purchasing for Florida State College in Jacksonville. Marc grew up in Orange Park, Florida but now resides just south of Yulee on the border of Duval and Nassau counties. Marc is an avid biker, fisherman, musician, active community supporter and living historian. His first bike was a Honda SL 70 which he used to "attempt to break some bones in his body". Then he got into MX racing at age 14 and succeeding in breaking the rest of his bones. Surfing has been a lifelong passion of his until as he puts it, "I got fat". About 2002 when he hit an early "mid-life crisis" and just had to have a bike (and with his beautiful wife Lee's blessing), he purchased his first real bike, a 1997 Honda Magna 750 that he says was simply awesome. Currently he rides a 2001 Victory V92C (1500cc) that he loves but plans to Harley up someday soon (with his wife Lee's blessing).
Marc is a volunteer for the Living Historian Program at Fort Clinch State Park and a member of the Friends of Fort Clinch Citizens Support Organization, a 501c(3) Not for Profit that raises funding to directly support Fort Clinch State Park. In 2010, Marc and two of his closest friends, Scott Bucher and Billy Taylor, also Living Historians, founded the Ground Pounders Riding Club. Their Mission: To Honor the Brave Men and Women who have fought for this great Nation. With a dedicated membership of active, retired and former military, and Patriotic Americans, the Ground Pounders actively support any Military event that directly supports our fighting men and women protecting this country's freedoms. For the past two years the club is a co-host with the Florida State College Foundation and Adamec Harley-Davidson on Baymeadows Rd. in Jacksonville, the Wounded Vets Ride for Pride Scholarship Rally which provides scholarships for wounded vets and their families selected by the Wounded Warrior Project, to attend Florida State College at Jacksonville. This event was the brain child of Marc and has been a huge success every year benefitting many Wounded Warrior Project candidates. Marc and his fellow club members ride with the Patriot Guard Riders and support many other charitable events throughout the area, but mostly they concentrate on supporting our Military. If you see Marc at any of these events, go up and say hello.
Because of Marc's dedication to the military and biker communities, his leadership in fund raising for these communities, and his absolutely hilarious postings on Facebook, we have put Marc in this month's Bull's Eye.