By Lulu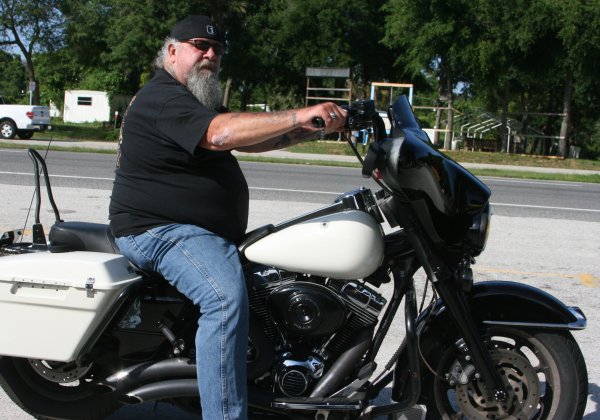 If you spend any time at all in the Ormond Beach/Daytona area and frequent one of my favorite watering holes…the Iron Horse Saloon, you probably have had the pleasure of meeting this month's Bull's Eye, Dennis Snyder, a.k.a. Grog.
Originally from Toledo, Ohio this 56 year old has spent most of his life on a motorcycle. At 8 years old his father started his two wheeled passion with a mini bike, and as most, once hooked he progressed rapidly through Hondas to Harleys. He bought his first bike in high school a 750 Honda and at 18 became a Harley owner purchasing a 1978 Low Rider. He has only gone about two years without a bike when he was buying a house for his family.
Grog has two daughters Tania and Denise, who have blessed him with three grandchildren Skylar, Jerrald and Andre. He spent 30 years as an insulator with Local 45 and retired. He moved to Florida in 1982 after visiting Bike Week for years. When a friend asked what are you still up in the snow for, he simply "loaded his tools, motorcycle, two TVs; gave his house to one of his daughters and moved south."
Other than motorcycles he has a passion for speed having raced Street Rods. His father owned Sprint cars and Grog crewed on the team. His dad also rode a 650 BSA which I am sure Grog regrets not having now.
He has ridden from Toledo to Sturgis twice and to Laconia. He spends most of his days riding by himself, although he has a posse of a few friends that he rides with occasionally. You are apt to find him in the Iron Horse Saloon in Ormond Beach, Main Street Station or Froggy's. His present ride is a 2004 Police Special that he bought with 4,200 miles on it and now has over 61,000!
When asked what he loves about being on a motorcycle he was quick to answer "the freedom of not thinking about anything but the ride and the wind on my face". Grog may be a bad ass looking biker but he has a sweet heart and I consider him a great friend. If you see him out and about ask Grog…What's up with that?