By Amy Poole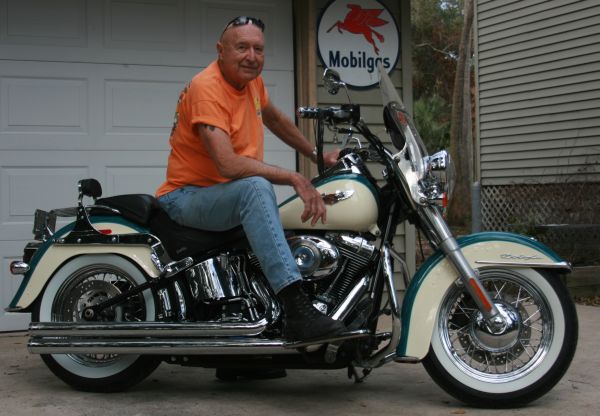 This is the first time I am writing a Bull's Eye and I was super excited and nervous at the same time, but featuring Jerry Moldrik in this month's column made it…easy. Jerry invited Shane and me to his home in Ormond Beach where he has been residing for the past 12 years. His home sits on 5 plush woodsy acres and he has the cutest goats!! His hobbies are riding, solo or with his kids, and boating. Jerry has lived and traveled almost everywhere, and I mean ALL over, but right here is where his peace and serenity holds him. Jerry has been a rider for the past 60 years starting out on a Cushman scooter at 12 years old. At 16 he purchased his first Harley an old flathead for $100 bucks. His uncle had a custom motorcycle shop and Jerry's trade at the time was sewing fringe on the seats and bags of the bikes. Being brought up and around motorcycles Jerry became intrigued and has been riding ever since. His beauty at this present time is his 2009 Deluxe.
Most of us have goals and some never get finished, but Jerry had a life time goal that he completed last July…taking a round trip journey. Jerry alone, and on his newly purchased 2001 Harley Dresser motorcycle, rode 34 days and 14,000 miles to the Arctic Circle in Alaska. The harsh roads and weather made it a little bumpy along the way and the scarcity of gas stations was an even greater challenge, but the stunning scenery, beautiful wild life and shiny glaciers made the excursion well worth it. He even almost had a run in with a BIG elk just after seeing another bike collide with a bear. On a previous trip Jerry's bike got stuck in 3 feet of mud in an isolated area…he said visions of bear attacks still haunt him!! Yikes…Jerry is a brave soul! His next big ride will be taking the auto train to Norton, Virginia and then take a leisurely trip back through the Blue Ridge Mountains and return to Florida. On a sooner note he will be going on a safari in Africa…but by plane! He is a lucky man to be such a world traveler.
For many years Jerry and his family used to go to the biggest Catfish Festival held in Crescent City. Each year they would look at this historic 125 year old building during the festival right on beautiful Lake Crescent. Since then they are right smack in the middle of it all…having purchased and renovated this lake side property thirteen years ago. They made it a huge success and a very well known name for themselves…3 Bananas Restaurant and Bar. Jerry's daughter, Pam, and son, Mike, run the business with their Dad which is how we come to the name of the restaurant. It's quite simple…they were sitting in the restaurant trying to come up with a name and I'm sure that can be baffling…when Jerry said he was looking around and his eyes came across the bananas hanging…and that was it…the 3 of them became the 3 Bananas. Jerry's nickname is the "old rotten banana" which if you know him he is far from that!! 3 Bananas sits right on Crescent Lake with an inside dining area and a spacious screened in deck with an awesome view. It's a scenic ride through the country to cruise on over to on your scoot or you can drift on in with your boat, tie up, hop out and relax at the tiki bar out on the water. With our weather getting warmer…you can't go wrong…it's pure paradise! Visit 3 Bananas to have a bite to eat in the backyard, a cold one or a frozen one, and say hi to the 3 Bananas!!!