By LuLu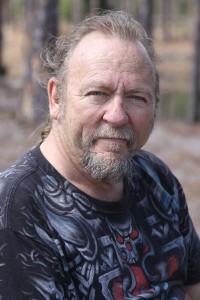 In the Daytona area, Arthur "Artie" Nolet is a well known biker who has made Datyona his home for the past three years after spending many years traveling to Bike Week from Rhode Island and Michigan. A 64 year old born in Fall River, Massachusetts his father was in the Navy and moved the family to Key West.
At nine Artie was "kicked off the school bus for fighting" and had to spend $50 to buy a Cushman Eagle to get to school. He spent years in south Florida living in Boca, Ft. Lauderdale, Cocoa, etc.
He moved to Rhode Island and started a job welding for the government working on nuclear submarines. He did welding for 22 years. His other occupations which when you look at the diversity of employment certainly make him a "Jack of all trades" included being a Harley mechanic with a PHD earned by "in house training".
He has also built houses and was employed by Ford for ten years as an assembly line relief man which means he relieved everyone and could work on all phases of the auto build.
He presently spends less time on his bikes than he would like as he is working as a cross country truck driver, which keeps him on the road but not on two wheels!
After his Cushman at age 15 he got a 1958 Triumph 640, eventually he built a show bike out of it and traded that for his first Harley, a 1965 Panhead. He enjoys building bikes and started his love of that by doing body repair, welding and fabrication on bikes he owned.
He has had at least 15 bikes over the years that he built and sold. He now owns 2 a 2005 Heritage Softail and the 2003 Shovelhead with a Delcron 80 inch motor. This bike is his current pride and joy with his skull and flame paint  job, aluminum spider seat and the name of "Blue Vixen". He has his heart set on getting another '65 Panhead.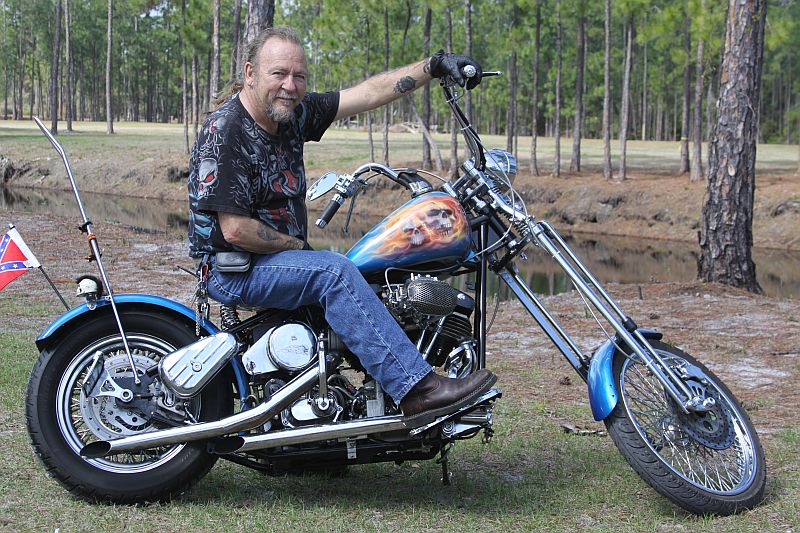 Spending hours on his bike over the years making multiple trips from Florida to Sturgis, Michigan to California, Rhode Island to Florida, etc… you can definitely say Artie has crisscrossed the country on two wheels. Other than his love of bikes, he enjoys fishing and frequenting local watering holes, particularly any that his friend Sherry Fletcher is tending.
His bike is one of the bikes chosen for the Twisted Tea Hot Thunder Bikini Contest on March 12th at 4:30p at the White Eagle Lounge in Korona, so come by and check it out and let Artie show you his Blue Vixen.
The Genesis of Bull's Eye
Because there are so many new readers of Thunder Roads Florida who may not know the history and the origin of the Bull's Eye column I thought our website would be a good place to give a bit of that.
When Bull (the original owner of Thunder Roads Florida) first started the magazine and discussed content ideas. He said he wanted me to write an article each month about my perspective of our times on the bike and the world we were traveling in and it would be called Pony Tales.
He was going to write an article each month about his views of the world and would call it Bull's Eye. A play on words with the meaning of hitting the target and his view on the world.
Then he met a guy in a bar before the first issue was due out who was an interesting ol' codger named Fuzzy who had lived on his bike for 29 years, after the tragic death of his family.
When Bull came in that evening he told me, "My ramblings are of no importance my Bull's Eye should be about the story of bikers. I want my Bull's Eye every month to be about an interesting biker, so Fuzzy became our first Bull's Eye. Fuzzy actually called me this week and still lives on his bike traveling the biking circuit.
When I say "lives on his bike", that is literally. He camps on his bike and does not have a home. After Bull's death I have continued his wish to keep the Bull's Eye a one page story about someone in the biking world.
One of his wishes, which has been difficult to keep, is that no matter how important the biker…the story was to always be only 1 page, that everyone's story should have equal importance.
When I did Bruce Rossmeyer, John Parham (J&P Cycles) and Eddie Trotta it was hard to condense their stories to one page. Bull felt on two wheels everyone's story was the same, simply the love of riding, and therefore the length of the article should always remain the same.
The Bull with the red eyes was the tattoo on Bull's arm. I hope you enjoy the monthly column that brings to life the story of people who like you love riding.
Lulu