By Deborah Speicher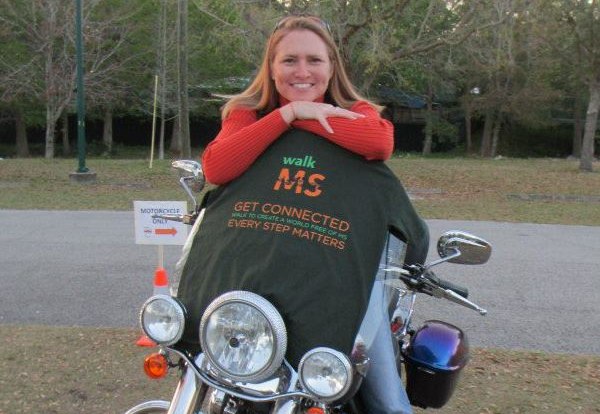 This month's lady Bull's Eye started riding her own motorcycle about five years ago. In the last three years, she rode to Milwaukee, Maine and California for a total of 12,990 miles. Sounds almost ordinary for a lot of riders but there is nothing ordinary about Christine Caraway as she has Multiple Sclerosis. Diagnosed in 2009 with this dreaded and incurable disease, Christine decided that she wasn't going to let MS keep her from living life on her terms. According to Christine, "MS has presented its challenges, including physically taking me a little longer to get where I'm going. I'm determined to not let it stop me from doing the things I love to do!"
When not riding cross-country, Christine also rides to support many other local causes and charities, and rides with her fiancé "Hunka" and the Old Town HOG Chapter. She is the Senior Vice-President of a local bank, and a mother to an active and brilliant 4th grader!
In 2012, Christine started fundraising for MS and for every dollar she earned each year, she rode a mile. Thus, the long distance annual rides started. This year she is the Walk MS Ambassador. You can come out and walk with her on March 28 at Al Lopez Park (Tampa); registration starts at 8am and the walk begins 9am. You can also donate to Christine at: http://main.nationalmssociety.org/goto/MSsionPossibleWalkMS
Make a donation and let's send Christine to parts unknown on her motorcycle this year!