By Lulu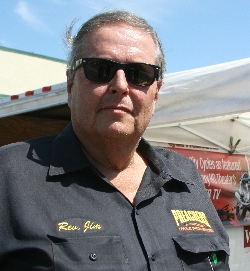 This month we found our Bull's Eye in Sebring at the Ride to the Heartland event. Reverend Jim, as he is known, is the owner of Preachers Cycle Promotions and the creative mind behind the 1st Church of the Apehangers which he started in 1990. He was surrounded by men equally amusing such as Aloha Terry, his Minister of Propaganda and Zane, Minister of Media. The bike shop is Preachers Hot Rod Cycle Designs. Jim Goodrich was born in Olean, New York in 1952 and stated "I was a jerk off by the age of 12". His first bike he built at the age of 13 out of scrapped and "borrowed" parts. He rode it without brakes, stopping it by running into bushes; and that was how his love of motorcycles began.
He grew up when being a biker was bad ass and he isn't afraid to take claim to that lifestyle. He left New York on the lam and headed to Florida where his parents had moved when he was on his honeymoon; they moved without telling him! Isn't it usually kids that run away, not parents? His wife Sue must be a saint or a masochist because she has stood by her man for 35 years now and together they have two children Lisa and "Crusher".
Jim's passion for speed and motors festered during years of owning Goodrich's in New York, which was one of the largest independent service stations. He became a certified master mechanic "back when it meant something". In 1986 when he moved to Pinellas Park he continued painting, fabricating and building motorcycles. In 1990 he started Psycho Kustomz and specialized in exotic paint and fabrication. He builds "fast bikes for fast people" and Jim says "If you don't plan on riding the bike, don't come to my shop."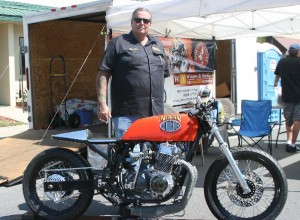 Even with exotic paint and a customized build, his bikes are built to ride. He says he builds bikes that are "mechanically functional, unique and reliable". He will be featured on Velocity by Discovery HD Theaters during season 3 for his rebuild of a 1974 Honda Café Racer that he drug around with him the past 33 years. When asked how many bikes he has built his answer was "100's and I've painted thousands. That is what keeps me broke and happy!"
His stable of bikes now include a 1977 Iron Head Sportster, a 1978 Shovel Head which he claims to have $100,000 in, a 1974 Honda 750/1000cc Café Racer, a 1976 Bridgestone 350 SS, a chopped 900 KZ Kawasaki and a 1915 J Model HD with a side car that his grandfather Yum had.