By LuLu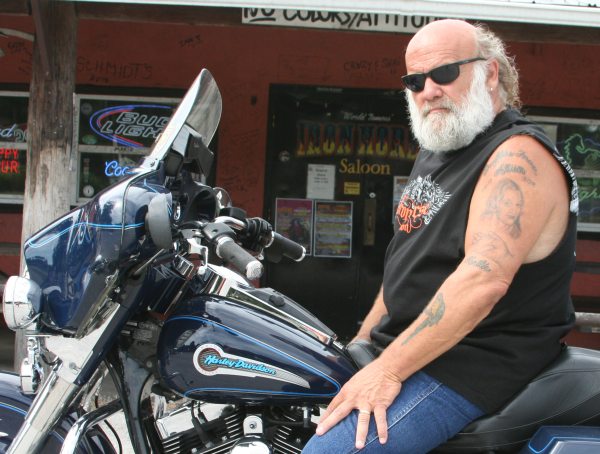 If you have visited the world famous Iron Horse Saloon over the past 30 years then you probably recognize this month's Bull's Eye Steve Fritze. Steve's first trip to Bike Week in Daytona he happened to meet Billy and Sally, owners at the time of the Iron Horse and they developed a 30+ year friendship which eventually led him to be the manager of the Iron Horse.
Steve was born in Springfield, Massachusetts in 1954, although he spent most of his time growing up in Enfield and eventually East Hampton, Connecticut. He is married to Deb and is the proud papa of four children. Matt is a bike mechanic in Jacksonville and Tony works for nuclear plants across the country. His daughter Kersten works for a hotel beachside in Daytona. His other daughter died in a car accident twelve years ago. He has 3 grandchildren and his bad ass persona is left outside if you are lucky enough to see the smile on his face holding his grandchildren in a photo on the wall in his office. This is definitely a fine family man.
In 2004 Steve retired at 50 from driving tractor trailers for 30 years and moved to Bulow Campground to work full time for the Horse. He is so entrenched in the motorcycle lifestyle that his 2004 Ultra Classic has 90,000 miles on it. When I say this man "rides" I mean to say his leather seat is a bit ragged and worn from all the miles his bottom has been sitting on it! His first bike and all his bikes have been Harleys. At 18 he got a Sportster and has been riding ever since. When asked how he started riding he says "the guys I was hanging around with in Enfield rode." Along with the Ultra Classic he has a 1981 FLH Shovelhead in his garage. He is a two time Vice President of ABATE in Daytona and when I asked what sets bikers apart from others he quickly answered, "They are the most giving people you'll ever meet-I don't believe there is a more giving group in the world." His work at Iron Horse has certainly allowed him to see that as he has worked hard on charities which have included St. Jude's and the Horse's real love the Conklin Center for the Blind. He also gets to meet some very cool bikers through the Horse including David Alan Coe, Mickey Jones, John Travolta, Jimmy Van Zant and some of the cast from Sons of Anarchy. As much as he works, rides and enjoys his family there isn't much time for past times but he does enjoy his suite tickets to NASCAR from time to time.
In closing he would like you to know that he thanks all of you who have supported the Iron Horse Saloon over the years and looks forward to continuing to make it the bar you come home to while in town for Bike Week or Biketoberfest, or for that matter all year long!