By "Kneecap"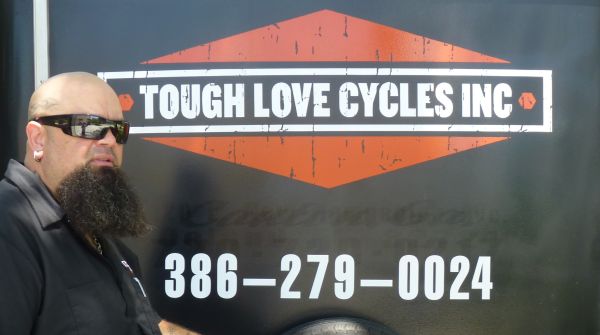 Bob McNamara was born in Philadelphia and grew up hanging around his father's car shop. At the age of 15 he bought his first Harley which most of the parts were in a basket. With the help of his dad he built it from the ground up, and within six months he was riding. After graduating high school he realized he wanted to make a career in motorcycles. The next several years were spent working at Harley Davidson dealerships in Pennsylvania and New Jersey. He became experienced in sales, parts, and management.
He came to Florida in 2002 and attended Motorcycle Mechanics Institute in Orlando. After two years he graduated top of his class and became a factory certified Harley-Davidson technician. He then spent a couple years working for Seminole and Orlando Harley-Davidson dealerships. He told me that what he really wanted to do was open his own shop. He wanted a place where everyone knew your name and actually cared about you and your bike.
In 2009 he opened Tough Love Cycles Inc… The name was a tribute to his late father who he and his brother affectionately called "Tough Love". After a few years and a couple of moves he has built it into what it is today. Bob loves what he does. He claims it's not work but a passion.
He doesn't only do routine service and repairs but also performance motor work, customization, fabrication and complete builds. He is extremely experienced and keeps up with all the latest technology.
He and his family live in Port Orange and look forward to many years of success. Stop by and see what Bob McNamara and Tough Love Cycles can do for you. They're located at 415 Oak St., Suite 1, Port Orange. And check out his website toughlovecycles.com.