By Lulu
[like url=http://thunderroadsflorida.com/?p=1785 xfbml=true]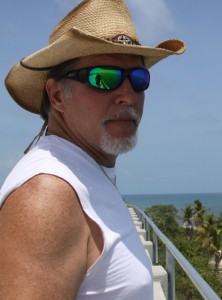 This month's Bull's Eye many of you may know from Thunder Roads Florida. Micah Mummaw is a 51 year old that was born in Lancaster, Pennsylvania. His family moved to Ormond Beach when he was 6 months old. Micah's father owned Ormond Machine & Tool Co. and even as a teenager Micah started learning the trade. At 17 he joined the Marines and his primary MOS was an 1811 tank crewman on a M60A1 Rise. A love of guns led him into special weapons training. After an injury he left the Marines with an Honorable Discharge and moved back to Ormond Beach and working again with his father. He loved fast cars having a 1970 Mustang Fastback as a teenager, often outrunning the local law enforcement. The love of speed led him into flying for pleasure and he has a pilot's license. His plan for "retirement" is to get his Captain's license and pilot yachts and planes for the rich and famous. I flew with him for the first time this year and he actually is quite good! After his father sold his business, Micah worked doing freelance construction for awhile, but ended up going back to the trade he was best at: machine work and engineering. He now owns Falcon Industries in Holly Hill. He has done work for the cigarette racing boat industry, Disney, NASA, Embry Riddle, Aeronautical University and as he says "works on boats, cars, planes, bikes, medical, dental and weapons". Clients contact him with ideas and he turns them into reality.
Micah started riding as many do on a mini bike at 8, moved up to dirt bikes by 10, a Suzuki 100 by 15 and had a Kawasaki 400 and then a KZ 1000 while in the Marines. During his early child raising days he went bike less, then at 39 he bought his first Harley a Sportster 1000 Liberty Edition. He moved up to a Fat Boy and finally the 2006 Ultra Classic he rides today. What sets him apart from other Bull's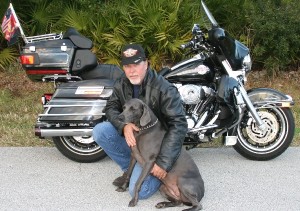 Eye we have done in the past is he has to put up with me and the escapades of Thunder Roads Magazine Florida. Micah has been my boyfriend for the past 3 years and has hauled me from event to event on the back of his bike and "seldom complains". Micah's skill as a photographer has been a real asset and he really seems to enjoy the bikini contest part of the job! Micah loves the freedom of the road, fresh air and the people we meet. When asked what he likes about being part of the magazine he says that it gives us time to be together, but when I get frustrated he has often said that the magazine opens doors that we might not normally walk through (like the dressing room door of the bikini contest!). Countless miles, hotel rooms and putting up with deadlines makes Micah this month's Bull's Eye!