By Lulu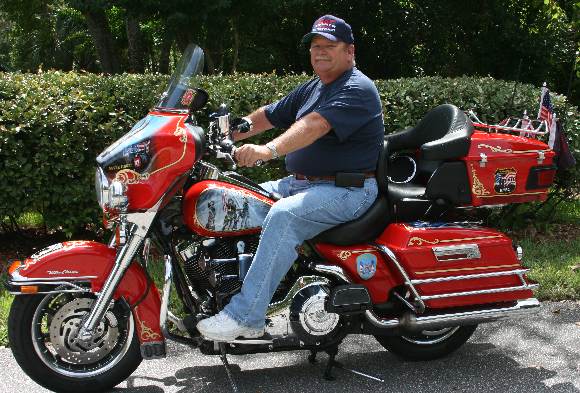 This month is the perfect issue to feature Bob Moore from Port Orange as our Bull's Eye. His 2003 Harley-Davidson Firefighters Special Ultra Classic was dedicated to the memory of the tragic events of 9/11. A charter member of the Red Knights in Croton, New York and a volunteer fireman for 41 years, he has spent countless hours doing the good works that men of his caliber do, whether it was fighting fires or working on charity events. Bob also has worked with Veteran's causes since a teen and is a member of the wonderful guys and gals from Florida's Rolling Thunder Chapter 8.
Even though this bike is a show piece, Bob doesn't let it sit in a garage…I see him out everywhere putting miles on his bike and thereby keeping the tragedy of 9/11 in everyone's minds. Having lost 2 friends from the events of 9/11 he wanted this bike to be in their memory.
Originally from New York he began riding as a teen on borrowed dirt bikes and got his first Harley at 16. He has had 15+ bikes in his life, but this one he will hold on to. In his words "this bike will never leave me". He hopes to leave it to the firefighter's museum when he rides on to higher pastures. The artwork on this bike was done by a fabulous painter at ROAR Motorcycles in Daytona by the name of Fern Gadd from photos that Bob spent hours choosing from. The gold leaf really makes the art work pop and adds richness to the theme that few bikes have. I have seen many tribute bikes and I haven't seen a better one.
Other than the charity work and his involvement with Rolling Thunder and the Palm Coast Red Knight's, he is a skilled rider that was a member of the Daytona Harley Drill Team. Bob spent his working career with the Metro North Commuter Railroad and then as a heavy equipment operator. He moved to Florida to care for his mother when she was diagnosed with breast cancer in 2003. When they sold their New York home he told his wife you can get the house you want and I will get the bike I want which is the 2003 HD he still rides. What a moving tribute to those who put their lives on the line; and for those who have lost their lives protecting us and I don't mean just the bike! I also think his lifelong dedication to the Red Knights and his involvement with Rolling Thunder should be an example to young people to get involved with people you can be PROUD to be associated with and to use your life to make a difference any way you can.