By Lulu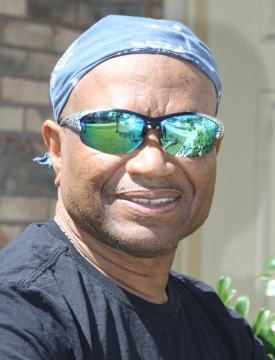 This month our Bull's Eye isn't your typical biker, not at all. He is a soft spoken spiritual author, musician and a man with a Master's Degree in reading education. But his story of riding into the world of motorcycles is one with humor and quite uplifting.
Stan Alston is a 59 year old native of Norfolk, Virginia. A father of three boys and one girl that has been blessed with three grandchildren and a lovely wife, Sheila; you can tell he is a family man. Stan attended Almeda University in Boise, Idaho and Grand Canyon in Arizona and NYU in Long Island, New York. Most of his life he has spent in telecommunication living in the Richmond, Virginia area. He has his SEC license and currently has a radio show on Flagler County Radio, station 88.5. He has written two books "Faith, Love & Life", "A Collection of Poems & Songs" and "Truth by Testimony". Stan is currently writing a novel titled Bird in a Hurricane. I found him inspiring and easy to read.
After a snowstorm in Virginia that dumped 15-24 inches he decided to move his "nest" to a warmer climate. Stan ended up in Palm Coast after hearing of the area from several people, never dreaming what was in store. His true passion is music. Stan has been singing in public since age seven. His first paid performance was at thirteen. He gave me a CD and his rhythm/blues/jazz style is soulful with a bit of funk. A friend, Kevon, introduced him to Cuba Gooding, Sr. who was auditioning for a new vocalist in the famous band Main Ingredient that is known for "Everybody Plays a Fool" and he landed the job. (By the way it is Cuba Gooding, Jr. the actor's father.) Now he travels with the band and is having the time of his life! You just never know what doors God may be holding open for you.
Now, as far as being a motorcycle enthusiast, this is a lesson on prayers being answered or be careful what you ask for! Sheila and Stan were watching scooters running up and down the beach and mentioned that would be fun. Stan prayed for a scooter. His wife was playing slots and won a 2004 Softail Deuce…#30 of a limited edition of only 150. Stan laughed and said, "I guess in heaven scooters and Harleys are similar". I think the angel that granted his family that wish knew Stan deserved the best for the Christian way he lives his life, for his written words and songs that inspire and for the charitable work he does for special needs kids. After all it isn't just the bike they won, they have each other and Stan has a wonderful opportunity to work with a legend in music at 59 years old…any one of these things would be priceless…and he gets a grand slam! Way to go, Stan, keep up the good work and put a good word in for me with whoever is listening!