By Lulu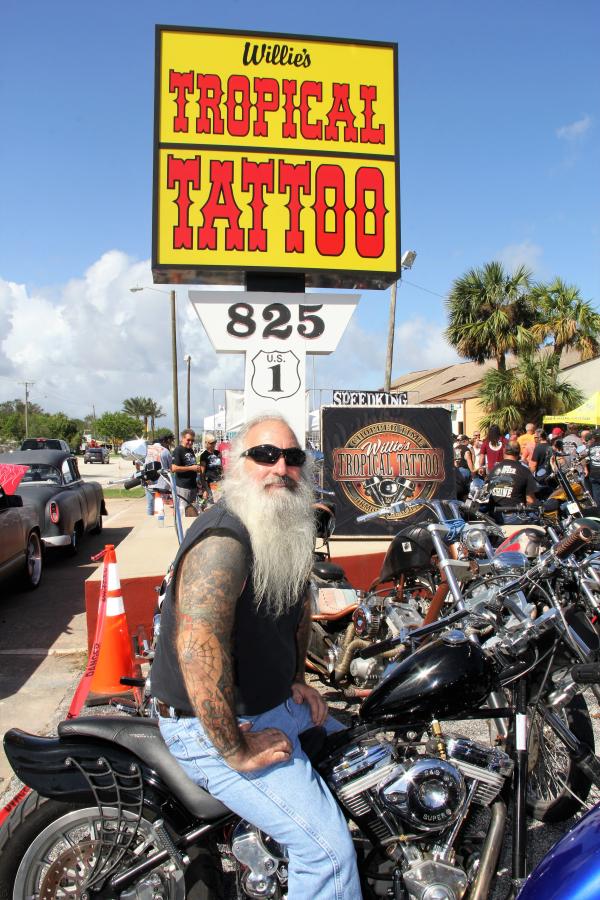 Some might have observed that the crowd at Tropical Tattoo was down a bit this Biketoberfest and with the recent hurricane that rocked the whole state it was no surprise. But I admit it made the event a bit more enjoyable for those of us who were onsite as we were able to move around more freely and get in to view the bikes without fearing you might knock a whole row over! What started years ago as a bunch of builders meeting at Willie's to ride out for the night, creating a bike show with their own personal rides has become one of my very favorite events of Bike Week and Biketoberfest. Music by Big Rick & the Troublemakers and Eddy Davis & the Pillars fills the back yard while beer and Twisted Tea sales help either Vets or animals depending on the season, and you can always get a little ink while you are there! If you don't know Willie and the gang at Tropical, they are great guys with enormous talent and I consider them to be some of the best people I have gotten to know in the motorcycle industry!
A special thank you from Willie to the sponsors that help make this event possible each year…Rue & Ziffra, Twisted Tea, The Horse Back Street Choppers Magazine, Chop Docs, Biker's Pocket Guide, Bling's Cycles, Lucky Loser, DK Customs, Lowbrow Customs, TC Bros Choppers, BD's Customs, Mo's Customs, Hard Luck Designs and Boomer's Bike Shop.
And the winners are!
Best Twin Cam Bobby Cathcart, Best Metric Tara Cheuvrant, Best Knucklehead Rick, Best Shovelhead Nick Pencil, Best EVO John Bennett, Best Creative Custom Eric Allard, Best British Otts & Judy Yesenko, Best Hardcore Chopper Marcus Brown, Best Rat Frank Vediccio, Best Sportster Bob Alexander, Best Panhead Andy Geaves, Best Jap Robbie, The Horse's Choice Craig Palmer, Kari's Choice Jeff Rainville, People's Choice Bill Dodge, Roadside's Choice Brett Roberts, Willie's Choice Wendall Turner, Willie's Choice Mark Stevens, BD's Customs Choice Greg Fisher, Reverend Al's Choice Angela Stathas, Tropical Tattoo Choice Greg Fisher, Cycle Source Choice Larry, Chop Docs Choice Bryan Lane, Mo's Choice Dan Starkey, Willie's Choice Pepi Barone, Honorable Mention Chris Phillips.