By Ron Cox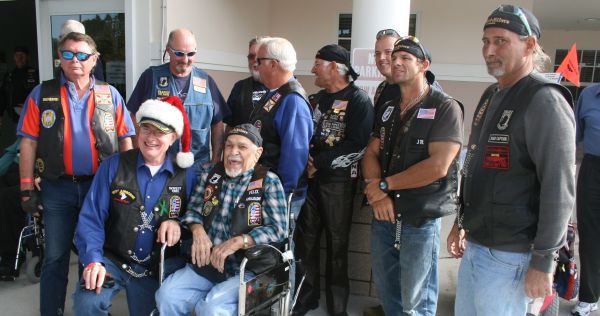 The Southwest Chapter of ABATE of Florida Inc. hosted its 32nd Annual Christmas Run on Sunday, December 23rd. About 270 riders/passengers assembled at Harley-Davidson of Ft. Myers to take the 38 mile ride to the Douglas T. Jacobson State Veterans Home in Port Charlotte. The Home was named in honor of a Medal of Honor recipient who received the award as a result of action on Iwo Jima in 1945, the citation was signed by President Harry S. Truman. The Home is home to 250 male and 5 female Veterans.
Registration was only $5 and the riders were asked to bring things like gift cards, toiletries, snack foods and other sundry items. Kick stands went up at 1pm and the entourage was escorted by Deputies from Lee and Charlotte counties. Funds raised will be shared 50/50 between the Southwest Chapter and the Home.
Many of the residents were outside as the entourage arrived and smiles were a mile wide as the riders, many of them Veterans themselves, shook hands and wished them a Merry Christmas.
We'll let the pictures tell the rest of the story.