By Deborah Speicher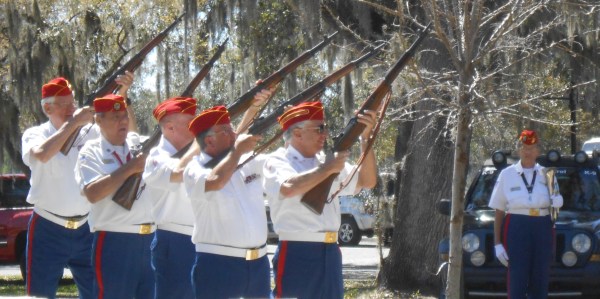 Saturday, March 8 proved to be a busy day for local riders especially veterans and supporters. I started out the day by riding to Hillsborough County Veterans Memorial Park in Tampa. Although the park pays homage to all war heroes, the Committed Forces Memorial honors those who served in various U.S. military conflicts around the world. The dedication ceremony turned out to be a wonderful lesson in history as service men that were part of these incidents gave us their first-hand accounts of what really happened.
Special mention goes to Rolling Thunder Chapter 11 Florida for the presentation of the MIA/POW table, Marine Corps League 1226 for the rifle salute and TAPS, the CENTCOM Color Guard, Linda Pugsley for her invocation and benediction, and VFW Post 8108 who served up free lunch.
Afterwards, I rode out with Rolling Thunder Chapter 11 to the American Legion Alafia Post 148 for the Haley House Poker Run. Earlier, riders could pick a starting point either in Zephyrhills, Tampa, Mulberry, Gulfport or Palmetto, and ultimately end up at Post 148. The proceeds from the poker run and auction held that day benefits the Haley House Fund. Tampa is home to the James A. Haley Veterans Hospital. However, families of injured active duty and veterans cannot always afford housing to stay in the area. That is where the Haley House Fund steps in to assist with local living arrangements so families can stay close by. "No one left behind – including families" is their motto.