By Lulu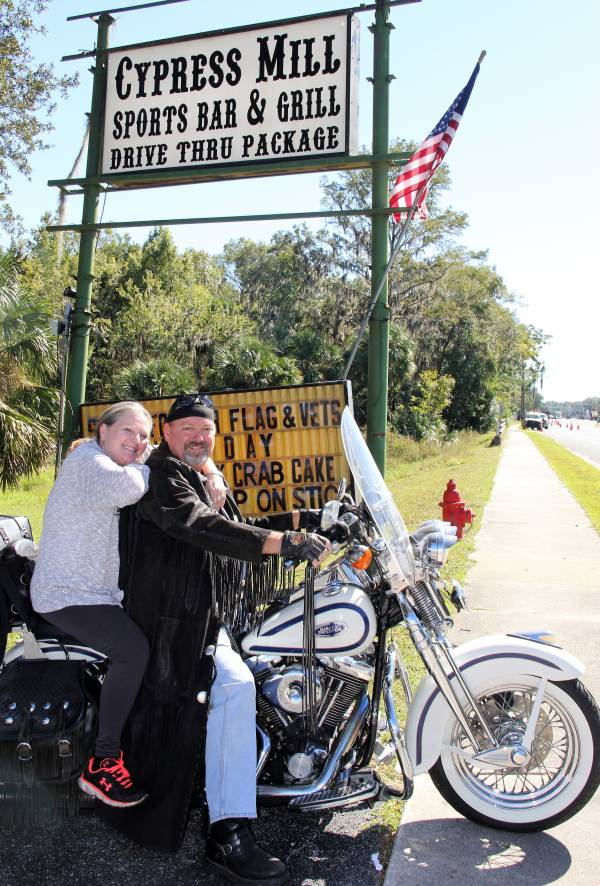 Nestled in Perry, Florida at 210 South Byron Butler Parkway is a quaint watering hole with simply awesome food! Cypress Mill Package & Sports Grill pours a good drink, serves ice cold beer and WILL NOT let you leave hungry! While we were there motorcyclist from south Florida and even Texas were decked out in leathers warming their bellies with great food.
Owners Dusty and wife Suzie welcomes motorcyclists with open arms! And they should as she rides her own 1200 Nightster and he states he has been "riding all my life". Dusty had his '97 Springer out in the parking lot and joined us on our trek to Panama City Beach for Thunder Beach Fall Rally. They are adding motorcycle parking in the future and they love to be a stop for poker runs. And for our readers who are vets…Dusty was an Army Pilot and when we came in to eat the place was decked with American flags on the table and a "Missing Man Table" was set.
The establishment has two sides one a restaurant with a full liquor bar featuring steak night on Wednesdays with hand cut ribeyes. Their menu says, "Welcome Friends" and they mean it. On Thursday, they feature fish dinners. Our favorites are their Reubens and burgers, and we have stop in every time we are heading to the Panhandle…it is our "must stop" place! We time our trips for lunch or dinner…and a cocktail! They also have an appetizer that is scrumptious and too much food for one, fried macaroni balls!
The other side is a bar with smoking. They have live entertainment on Friday nights and 12 big screen TVs for college football on Saturdays. Pool tables get worked out here. They also have an outdoor patio. They are also a package store.
Their hours are 11a-midnight Monday-Saturday. Cypress Mill is closed on Sundays. Please stop in and visit Dusty and Suzie they are super nice and "if you leave hungry it is your own fault"!