By Deborah Speicher
Although most people believe that Floridians are limited to riding the flatlands, there are a couple of west central counties that have some of the highest points in Florida – namely Pasco and Hernando counties. These counties have the best of both worlds. There are the beaches and, as you travel inland, there are country roads and small towns. I call the inland part of these two counties "Florida Hill Country" since they have hundreds of miles of scenic roads with twisties and hills.
Beach Side: Pasco has a couple of really great beachside places that I have frequented over the years. There is nothing better than good food, a cold drink and a great view of the water. Check out Sam's Hudson Beach Bar, Venom Bar & Grill and Hooters. Biker friendly Venom also holds bike nights every Tuesday and Saturday. Western Hernando also has a few of my favorite ride destinations namely Bayport Inn Restaurant & Lounge and the Upper Deck. Bayport Inn has been a long time favorite for many riders with its good food, music and views of the gulf. The Upper Deck also has good food, and you can swim and kayak in the springs right next to it.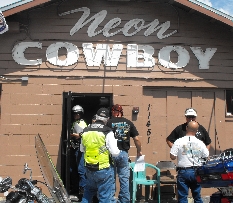 Hill Country: Great roads in Pasco County not to be missed are Bellamy Brothers Boulevard, Bayhead Road, Lake Iola Road, St. Joe Road, Blanton Road, and all roads in and around them! These scenic roads will take you to the Neon Cowboy, Pancho's Villa and On Q. On the corner of Bellamy Brothers Boulevard and SR 52 is the Neon Cowboy. It's a favorite watering hole for the locals and this biker-friendly bar is also known for being a poker stop for many charity poker runs. Over in San Antonio, you will find some of the best Tex-Mex at Pancho's Villa and equally fantastic barbeque at On Q Smokehouse Grill.
Heading north into Hernando County, I like Spring Lake Highway, Mondon Hill Road and Lake Lindsey Road. Note, at the corner of Spring Lake Highway and Cortez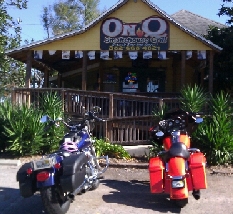 Boulevard/SR 50 is a Hess Gas Station. On most weekends, this particular gas station is packed full of motorcycles. If you stop there for gas and find yourself hungry, go across the street to Popa Joe's for some of the best Italian food anywhere. Right next door to Popa Joe's is another favorite place of mine – Remington Outpost. Remington carries all kinds of riding wear whether you are riding two wheels or four hooves!
Other not to miss spots in Hernando County are the Lake Lindsey Mall and River Ratz Café which are both located off of Lake Lindsey Road. The "Mall" is actually a small store in the middle of the country and a stopping point for many riders. River Ratz is located at the Nobleton Outpost and sits right on the Withlachoochee River. With its great views and good food, it also is a favorite stop for many riders.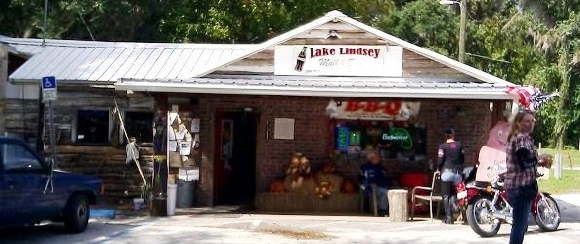 In between: In Pasco, check out Harley-Davidson of New Port Richey on SR 54. Right down the road is downtown New Port Richey which holds their Annual Cotee River Bike Fest each year just prior to Biketoberfest (October 11-14, 2012). Over in Zephyrhills, they block off the streets and allow motorcycle only parking for their "Music and Motorcycles" events. They hold them on Saturday nights a couple of times a year. Check out their website for dates at: www.mainstreetzephyrhills.org
While traveling US 41 in southern Hernando County, don't miss Mid-Way Farm and Ranch Supply. They do sell livestock feed, but they also have a mother lode of western wear. Just up the road is Masaryktown and some of the best Cuban food you will find north of Miami at Café Masaryktown. If you happen to be hungry and near downtown Brooksville check out Mallie Kyla's Café or Coney Island Drive Inn. Both have excellent food and are long established favorites with the locals.
Small Town Americana: Some really unique small towns not to miss are Dade City (home of the Annual Kumquat Festival and one-of-a-kind Kafe Kokopelli), Trilby, San Antonio, Aripeka, Zephyrhills and Brooksville (home of the annual biker rodeo a/k/a party in the pasture and Spooks-n-Scoots).
Places of Interest: Florida Estates Winery in Pasco County. Turning off of SR 52, the road leading to the winery is unpaved but hard packed and will take you through cow pastures. Once a month they hold festivals at the winery. Sitting outside underneath giant oak trees, listening to music, eating all kinds of food, and checking out the vendors is a great way to spend a Saturday afternoon. Hernando County is home to Weeki Wachee Springs. Open since 1946, this well-known tourist attraction still features mermaids. Last but not least is Boyette's Groves in Hernando County. Described as an "eclectic Old Florida tourist shop" it is truly a blast from the past and more than just a citrus attraction.